A New Way to Improve Decision-Making and Resilience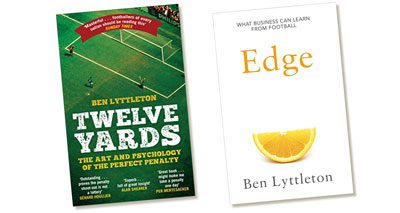 Both of Ben's books mentioned are available through all good retailers.
Dear England, the play about how Gareth Southgate restored identity and pride to the England national team, is now showing to rave reviews in the West End. The play is fantastic, and full of humour and insights into Southgate's leadership methods.
It also focuses on how Southgate turned around England's fortunes from the penalty-spot; from his own traumatic miss in the Euro 96 semi-final against Germany, to coaching the team to England's first ever World Cup penalty shoot-out win in 2018.
This subject is close to my heart: I spent two years researching and writing Twelve Yards, a book about how to score from the penalty-spot. More than that, the book is about how to successfully execute stressful tasks and make good decisions under pressure. The book and its concepts have been used by national and Premier League teams since, and coaches like Southgate now understand that penalties are a trainable skill that can be improved.
The penalty is a microcosm of any pressured decision that you have to take in your professional life: when you're stressed, you make less good decisions, so what strategies can you put in place to help with that? I often talk to football clubs about scoring from the penalty spot and I often talk to businesses about making good decisions under pressure. It's a similar conversation, as the same concepts apply.
Southgate's communication skills also come under the spotlight in Dear England. He wrestles with important questions around identity, authenticity and language. These are aspects of leadership that can clearly impact performance, and I explore these in another of my books, Edge, which examines how football's top coaches identify and improve talent. I spent time with some of the best coaches in the world – including a World Cup-winning coach – to learn how they develop cohesion and resilience in their teams.
Many of their leadership lessons are transferable to other industries. We might not be able to have Southgate, Sarina Wiegman or Ange Postecoglou as our managers in the workplace (for some of us, that might be good news), but this is the next best thing – an insight into the concepts used by elite leaders that can help us. After all, football is the most hot-housed talent factory on the planet. It's time to wake up to the lessons the game can provide.
---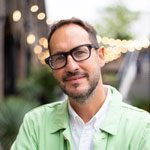 Ben Lyttleton
Ben is a journalist, author and keynote speaker who believes in the power of football as a force for good, and advises football clubs, organisations and brands on innovation, cultural insight, and teamwork. His talks also illustrate many surprising and insightful aspects of leadership in football whilst making it relevant and enlightening even to those that aren't fans of the beautiful game.
View Ben Lyttleton's JLA speaker profile here.
If you'd like to enquire about booking Ben, please contact your JLA Account Manager.