A new gold rush is underway, attracting extremists, adventurers, military officers and politicians. But it's not gold they're after: it's us.
Over the last decade, a new world that has been sliding into the cracks and crevices, vacuums and new spaces left open by the collapse of mainstream sources of truth, trust and authority. The world of journalism has been broken open. Technology companies have become our windows to learn about the world. People across the world have swung their trust and faith behind new sources of authority, truth. The whole way that truths are validated and opinions formed and defended has completely changed. And that, for some, is a massive opportunity.
With my colleagues, I've been reporting on the various skirmishes and conflagrations of this world for several years now. During the lockdown, we watched as fringe medical and political communities harvested millions upon millions of interactions on Facebook, trying to cast the lockdown as a tool of social control and One World Government perpetrated by shadowy elites.
Another investigation exposed that hundreds upon hundreds of apparently disconnected websites really part of one sprawling empire, creating industrialised quantities of health disinformation, pepper ideology, hyper-hyper partisan politics and (of course) conspiracy theories. And before the lockdown, we tracked how geo-political struggles between states, had broken out across Wikipedia's vast multi-lingual expanse of entries, even found the strategies written to do it.
We've begun to call all of this 'fake news', or 'disinformation', but many of the techniques of illicit influence are far more subtle and clever than that. Far from trying to change your mind, this is a world often trying to confirm it; to spark outrage and direct anger. It is a world that involves the creation of fake people amplifying truths, and real people sharing falsehoods. It can both be the hounding and abuse of politicians, journalists and critical voices to drive them off platforms, and also the creation of adoring crowds and cheerleaders for whoever is paying for it. It blends the very visible and very secret, attributed and non-attributed, merging together actors that are centrally controlled with those that are completely self-directing. It is nothing less than the creation of synthetic ideational realities. What we see, what we think, who we are, are all being shaped from the shadows.
There is a foundational idea underneath all of this, one crucial for absolutely all of us to understand the world today: information warfare. This is a way of thinking that doesn't just conceive information as a tool of conflict, but a theatre of war itself. Information is a space that warfare happens within.
The consequences of this idea are profound. It brings all of us to a new kind of frontline. Our attention becomes a form of territory. Our psychology forms the basis for a strategy. And 'content', all of the arguments, memes, videos, everything that we see online becomes an instrument purely to create ulterior effects – either attitudinal or behavioural change.
Of one thing, I am certain: information warfare will spread. It's too easy, too cheap to do, with too few costs or penalties to do otherwise. Currently, the struggle is over elections and geo-politics, between politicians and states. But from the elections of US Presidents, it is only a matter of time before you see the same techniques appearing in local elections across the world.
Neither will it stay in politics. Already, information warfare appears in the world of corporate reputation, where campaigns emerge from the shadows to harm brands and products in organised, concerted ways.
In the years ahead, the information battlefields will also stretch outwards. Currently, the battles are over and within online information, but the same thinking applies to financial information, medical information, everything you use to make decisions as a company and as an individual.
The gold rush has started, but it certainly isn't over. Make no mistake, it is a struggle over belief, truth, identity and emotion in the digital age. Really, it is a struggle for who we are. For even though we rarely see it, we're at the heart of all of this. We've all been brought a new kind of frontline where our beliefs, even are feelings are now targets. And If you don't understand information warfare, you don't understand the world. You don't even understand yourself.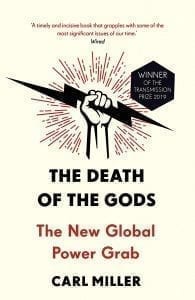 Carl Miller is Research Director at Centre for the Analysis of Social Media and author of 'The Death of the Gods'. To book him (or any other speaker for your event) please contact JLA here.