Jeremy Lee reviews 'Why Business People Speak Like Idiots'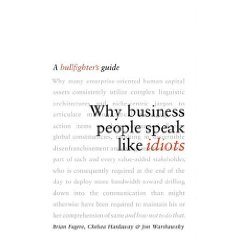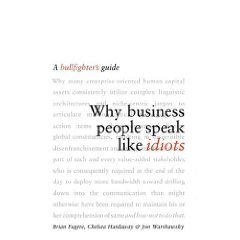 Words matter, but this book's banal bag of tricks won't tell you how to keep slack language out of your presentations or how to make 'em laugh, laments Jeremy Lee.
When the new chief executive of Prudential proudly announces his intention to 'focus one million per cent on the future', we are reminded that business people from the top to the bottom have a problem with language.
Like football managers struggling to construct whole sentences in post-match interviews, the problem is that superlatives become meaningless.
You have to keep increasing the stake while the currency constantly loses value.
If you accept that the way a business communicates reflects its health and affects the way it's perceived internally and externally, you must also accept that words matter a great deal. Everything from routine e-mails to the turn of phrase used to rouse the troops at the annual management conference deserves serious consideration.
This is the starting point for the three US consultants-turned-authors, and few would disagree.
But that's as far as it goes. The book attacks banality with banality – mixed with a whole heap of contradictions. It advocates simplicity and economy, but takes 150 pages to tell you a dozen basic rules. It rails against overblown expressions, then alerts the reader to the dangers of 'document obesity'.
The authors claim you don't need to be a stand-up comic to raise a laugh in presentations, then recommend throwing in the odd Chinese proverb to 'flex your humor'. They repeatedly call for 'authenticity', only to suggest we avail ourselves of some useful stories about the rich and famous at www.anecdotage.com.
With astonishing predictability, the authors fix their sights on easy targets such as PowerPoint and political correctness. Both are clearly inventions of the devil, the latter partly responsible for the Columbia Shuttle disaster in 2003. Twaddle. PP is an immeasurable advance on slides, while PC simply exists to encourage fairness. Of course, both succumb easily to ridicule, but there's little wrong with the technology or the sentiment – only the way each is habitually abused.
Douglas Adams once told me that the internet would spread democracy by enabling 'the many to speak to the many'. In fact, the proliferation of blogs looks more likely to breed conspiracy theories than encourage greater participation in the constitutional process. Similarly, alongside a tiny number of star players, we now suffer from a rash of bland corporate websites, mostly signifying nothing. These shortcomings are not caused by bad technology or even primarily by bad design, but by bad language. And I don't mean swearing.
Fugere, Hardaway and Warshawsky are right to say that amid poor competition, the clever communicator can easily stand out – but you'll find a more cogent argument and a far better roadmap in Nordstrom & Ridderstrale's Karaoke Capitalism.
On a personal development level, the biggest fallacy Idiots and many similar books perpetuate is the myth that a few tricks and a little application are all you need to turn yourself into a magnetic public speaker. More twaddle. As someone who works with many of the most accomplished speakers in the country, I have learned that technique is almost useless without natural flair.
With the exception of the occasional sporting celebrity, the stars of the speaker circuit have a rare talent to engage – hence their stratospheric fees.
The best speakers, from Tom Peters to William Hague, take you into their confidence. They delight in sharing something you didn't know about something or someone you do know. They paint pictures in your mind, like good radio drama, and turn messages into stories. They seem to look into the eyes of every member of the audience, never at an Autocue screen or that imaginary spot at the back of the room. They make every twist of the tale sound fresh, even if they've delivered it a hundred times before – and they invariably leave you wanting more.
At the other end of the spectrum are those speakers who move from the token opening joke to the meat of the speech with a pause, a slight cough and a perceptible change of tone. What they're really saying is 'and now I'm going to send you into a deeeep sleeeep'. These are the types who tell you what they're going to say, then say it, and finally in a blistering coup de theatre remind us what they've just said. All too often, they are the victims of presentation skills training.
When Alastair Campbell takes on a corporate speaking engagement, he also makes two other speeches without payment: one for his party and one to raise money for charity. Perhaps we should also use this principle: if you insist on buying this book, promise me you will also buy two beautifully written novels. Not only might they help keep you sane, they should also stop you resorting to Chinese proverbs the next time you have to make a presentation.
– Jeremy Lee is the founder of JLA, the speaker bureau