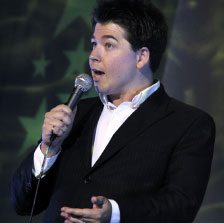 'Michael sits with the best - extremely funny, very respectful and incredibly well informed!'
Water Industry Achievement Awards
BIOGRAPHY
Michael McIntyre is arguably one of the biggest stars of British comedy currently performing. Host of his own Comedy Roadshow, holder of the UK record for fastest-selling arena tour, and now a Britain's Got Talent judge.
From hosting the Royal Variety Show to a swath of panel show and guest appearances, Michael has become one of the most familiar comedians on television. Michael's lightning-fast recall and ability to read an audience has been likened to the late Bob Monkhouse, whilst his boundless energy and knack of highlighting the absurdities of life has made him a popular prime-time TV regular.
Whether it's the people that call in to radio stations, or the eloquence that lurks behind the embattled looks of rugby players, Michael surveys modern life and its eccentricities with style, wit and affable Home Counties charm. He might also touch on the perils of commuting, especially to the North.
Michael's list of guest credits includes Have I Got News For You, The Apprentice - You're Fired, Live at the Apollo, and 8 Out of 10 Cats. He is also one of the biggest live comedy successes, regularly selling out huge arena tours and topping the DVD charts.

Print
© Copyright JLA: All Rights Reserved
PRESENTERS
OVER £25K
ENTERTAINMENT
OVER £25K
YOU MAY ALSO BE INTERESTED IN...
RVS: BEFORE THEY WERE FAMOUS
The following comedy luminaries all appeared on JLA's Real Variety Show - long before they became luminaries:

Bill Bailey

Frankie Boyle

/> Marcus Brigstocke

Ed Byrne

Jimmy Carr

Armando Iannucci

Sean Lock

Alistair McGowan

Michael McIntyre

Dara O Briain

Print
ALSO SEE OUR...