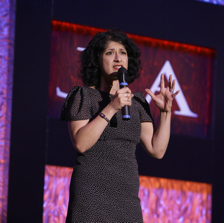 PRESENTERS
£2.5K TO £5K
ENTERTAINMENT
£2.5K TO £5K
SHAPPI KHORSANDI
IAA 5 Jan 2010
We had fantastic feedback from attendees so am glad we choose in the end to go with both her and Three Waiters, and particularly appreciate your help on budget to make it happen. Shappi gave a great show and charmed the crowd throughout. We appreciate Shappi bearing through the snags!
Entertainment Feedback
Last comment
Dominique, Emap Inform 15 Sep 2009
Shappi recently presented at the Retail Week Rising Stars.

I was particularly impressed at how she managed the awards side of the proceedings as well as the comedy (many comedians only focus on their act). I thought she was funny, a little female focussed which wouldn't suit all events but great for us

Overall she performed well and I'd recommend her for another event
Presenters Feedback
Back to top
LEAVE FEEDBACK
Only fields marked(*) will be published publicly
SEARCH FEEDBACK
SEARCH FEEDBACK BY NAME
Should you wish to leave feedback for someone not listed on the site, please contact us.
The views expressed are those of the individual and do not necessarily reflect the view of JLA.