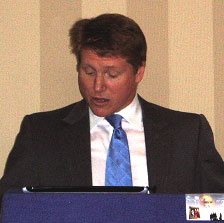 CONFERENCE SPEAKERS
£1K TO £2.5K
LUKE CUNLIFFE
Last comment
Julia, Deloitte 25 Mar 2009
The message which Luke wove into his speech worked in harmony with some of the thoughts participants had received earlier in the day. In an effective but entertaining and light-hearted way, he challenged the audience to reflect on themselves and how they can achieve their own aspirations.
Conference Speakers Feedback
Back to top
LEAVE FEEDBACK
Only fields marked(*) will be published publicly
SEARCH FEEDBACK
SEARCH FEEDBACK BY NAME
Should you wish to leave feedback for someone not listed on the site, please contact us.
The views expressed are those of the individual and do not necessarily reflect the view of JLA.