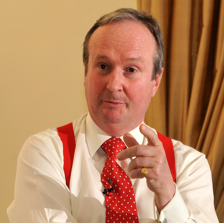 CONFERENCE SPEAKERS
£2.5K TO £5K
AFTER DINNER SPEAKERS
£2.5K TO £5K
JUSTIN URQUHART STEWART
Nat West 19 Jun 2009
The knowledge and humour you delivered was pure genius.
Conference Speakers Feedback
Last comment
Nat West 27 Mar 2009
Justin was superb. I have had nothing but great feedback from the audience.
Conference Speakers Feedback
Back to top
LEAVE FEEDBACK
Only fields marked(*) will be published publicly
SEARCH FEEDBACK
SEARCH FEEDBACK BY NAME
Should you wish to leave feedback for someone not listed on the site, please contact us.
The views expressed are those of the individual and do not necessarily reflect the view of JLA.