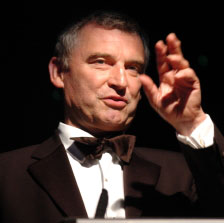 AFTER DINNER SPEAKERS
£1K TO £2.5K
IAN LOVETT
Ryan, IIR Middle East 11 Nov 2010
The audience really enjoyed his performance. It was different, lively and gave a Chairman's perspective of what was expected from HR professionals.

I would consider using Ian again in the future.
After Dinner Speakers Feedback
Association Of Run-off Companies 8 Apr 2009
Disappointed as it was hoped to have more (true) stories on banking. Did not expect 'comedian' but amusing speaker.
After Dinner Speakers Feedback
Vicki, VRL Financial News 25 Mar 2009
Ian was able to not only engage the audience on a professional level, but managed to cross over and had them in stiches over various anecdotes!
After Dinner Speakers Feedback
VRL KnowledgeBank Ltd (Leasing Life) 26 Nov 2008
After a quick brief of the type of speech we requested, Ian met with flying colours our expectations, with an intelligent, clear and very funny humour and kept the audience going.

The audience reaction was fantastic as he delivered the perfect after dinner speech. He was the centre of all conversation once the awards dinner was over.
After Dinner Speakers Feedback
Last comment
Garden Centre Association 31 Oct 2008
"Ian is very entertaining but he has also a lot of knowledge and experience to impart."
After Dinner Speakers Feedback
Back to top
LEAVE FEEDBACK
Only fields marked(*) will be published publicly
SEARCH FEEDBACK
SEARCH FEEDBACK BY NAME
Should you wish to leave feedback for someone not listed on the site, please contact us.
The views expressed are those of the individual and do not necessarily reflect the view of JLA.