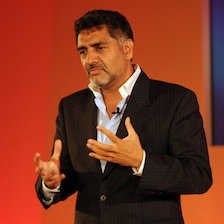 His immense understanding and ability to convey his story was superb. A wonderful speaker.
HSBC
EXTERNAL LINKS
JLA is not responsible for the content of external websites.
WIKIPEDIA
BIOGRAPHY
James Caan has been building and selling businesses for twenty years. He became well known as one of the all powerful investors in BBC's Dragons' Den and how heads his own private equity investment, property and buyout company.
James's original head hunting empire grew to hundreds of offices in dozens of countries across the world. He then moved into private equity (after putting himself through Harvard Business School), and began to specialise in turnarounds and development opportunities.
While he was in the Den, James received 1,000 email propositions every day, passing them on to one of his earlier success stories to sort the wheat from the chaff. As with all investments he believes in backing individuals rather than just concentrating on the balance sheet, harnessing their passion and ensuring they stay within the organisation. To continue this work he serves as Chairman of StartUp Loans, a government initiative to support young people with funding to start up new businesses.
James is the author of three best selling business books, and is behind the content of a best sellin app which provides support and advice to small businesses. He has also hosted CNBC's The Business Class in which six SMEs from all industries discuss their futures and how to grow.
In speeches James explains that to remain competitive, change is imperative: "The dynamics of business are constantly changing, and so is the competition. Every company needs to remain entrepreneurial, with a focus on people." As for business opportunities, he follows his father's mantra: "Observe the masses and do the opposite."
Print
© Copyright JLA: All Rights Reserved
TOPICS
Corporate Turnaround, HR & Training, Mergers & Acquisitions
SPEECH TITLES
Recognising opportunities
Entrepreneurial creativity
FEE BANDS
CONFERENCE SPEAKERS
£10K TO £25K
AFTER DINNER SPEAKERS
£10K TO £25K
YOU MAY ALSO BE INTERESTED IN...
Q & A

by James Caan
JLA: Do you have an all-purpose formula for beating the competition?
JC: My mantra has always been a phrase my father taught me: 'Observe the masses and do the opposite.'
/>
JLA: How do you persuade those opposed to or afraid of change?
JC: To remain competitive, change is imperative. Products are becoming obsolete much more quickly. The dynamics of business are constantly changing, and so is the competition. In terms of staff, the key is full and transparent communication.

JLA: Do you have a tried and tested strategy for attacking new markets?
JC: Anyone planning to expand to new territories must do as much market research as possible before making the step: simply understand who your customers are, where they are and what they want.

JLA: What about mature businesses?
JC: All companies need to maintain an entrepreneurial culture, and a focus on people. It's very common to become too process-driven as you grow.

JLA: Are you as ambitious now as when you first launched the business?
JC: At 50 I feel like I'm just at the beginning of my journey. I've been carefully nurturing and growing my company, and in the next few years the plan is to build on those foundations and really hit new heights.

January 2011
Print
ALSO SEE OUR...