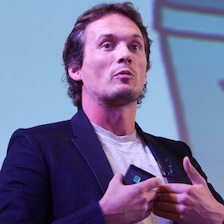 "Richard stole the show!"
The Diamond Trading Company
EXTERNAL LINKS
JLA is not responsible for the content of external websites.
WIKIPEDIA
BIOGRAPHY
Richard Reed is co-founder of Innocent. Challenging conventional business methods, the company sell over a million drinks each week and hold a 70% share of a growing market. They also set new standards by running everything on green energy and giving 10% of profits to charity.
The initial plan was simple. With £500 of produce, Richard and friends set up a stall at a music festival. Two bins, labelled YES and NO, were placed next to a poster that read 'Should we give up our day jobs to make smoothies?' By Sunday evening the YES bin was so full they immediately resigned.
Since then the combination of an all-natural product and a slightly anarchic approach has helped Innocent gain huge visibility and respect. Richard and his team have been voted Ernst & Young Entrepreneurs of the Year, and invited to Downing Street to offer advice on creating the right environment to encourage new businesses.
Richard's business mantra centres on simplicity, caring deeply about the product and the wider picture, involving the workforce, focusing on detail, listening to criticism - and letting image look after itself.
Print
© Copyright JLA: All Rights Reserved
TOPICS
Social Responsibility, Branding & Reputation, Customer Service & CRM
SPEECH TITLES
An Innocent story
61/2 rules of success
Keeping to core beliefs

FEE BANDS
CONFERENCE SPEAKERS
£10K TO £25K
YOU MAY ALSO BE INTERESTED IN...
THE INNOCENT RULES
JLA: How is Innocent feeling about 2010?
RR: We've gone from drinking Kool Aid to getting our mojo back. In fact we're thriving - and benefiting from a raft of international expansion after doing an investment deal with Coke.

JLA: Have you learned anything new from the recession?
RR: After nine years of extreme growth we saw decline, losses and redundancies in 2008. We learned a lot, and learned it the hard way. But now we're leaner and more focused - so ultimately it's been good for us.

JLA: How can SMEs compete with multinationals in this climate?
RR: The only way you beat your competition is by doing a better job than they do at looking after consumers. Fortunately that's as possible now as it's ever been.

JLA: How can any business rebuild confidence?
RR: With confession, sincerity, vision and passion

JLA: How do you catch or stay ahead of competition in a flat market?
RR: Invest in nourishing the relationship between your brand and your consumer - it's where the real value in any business lies.

JLA: Which sectors or business models are most likely to thrive?
RR: Those that sell experiences and entertainment rather than things - we've all got enough stuff.

JLA: Is 'make do and mend' here to stay? No more rampant consumerism?
RR: Hopefully people are increasingly valuing experiences above items, which is good for the soul if not the economy.

THE INNOCENT RULES

Keep the main thing the main thing:
The name Innocent reflects the intention to make a 100% natural product. You need to keep to core beliefs and be able to communicate them in one sentence.

Care:
Or at least have a motivation beyond the cash.

It's about people:
Innocent has devised numerous ways to incentivise staff other than money - including group exercise sessions.

Worry about the reality, not the image:
If you create a good reality, you'll acquire a good image. If you maintain the integrity of the company you'll achieve success.

Take care of the details:
In a homogenised marketplace where everything looks the same it's the small things that make a difference. Innocent have taken to putting jokes on bottle labels.

Open up and listen up
The more you invite criticism, the less you will lose sight of the main objectives.
Print
ALSO SEE OUR...