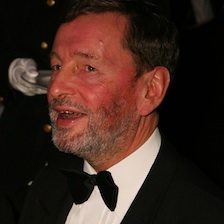 "Authoritative, insightful, entertaining and delightful company"
DAS/Omnicom
WIKIPEDIA
BIOGRAPHY
As Home Secretary at the time of 9/11, David Blunkett served through the most testing times. The turbulence was not confined to his political life; few senior politicians have experienced quite so many ups and downs, and none have achieved high office having been blind since birth.
After leading Sheffield City Council (described by a local Tory as 'The People's Republic of South Yorkshire'), David entered Parliament and held shadow portfolios in health, education and employment. Then as Labour Party Chair he became a key player in the development of New Labour - distancing himself once and for all from the 'loony left.'
When Tony Blair came to power David was appointed Secretary of State for Education and Employment - where he launched the Learning & Skills Councils, created Job Centre Plus and oversaw the Equal Opportunities Commission and The Commission for Racial Equality, and established the Disability Rights Commission. Later as Home Secretary he took responsibility for security, immigration and policing. He also attracted controversy by introducing a raft of measures to combat the threat of terrorism.
As well as giving an insider's view on the political landscape, David talks with authority on managing change, social responsibility and the benefits of diversity. His own story is one of overcoming considerable adversity. He is also an entertaining and surprisingly revealing after dinner speaker, with a fund of anecdotes about Labour's years in power.
Since leaving the front bench David has continued to inform policy-making on social mobility, affordable credit and cyber security. He also devotes energy to his Future For Work Foundation, whose aim is to provide volunteering and work experience. David has published The Blunkett Tapes (sub-titled My Life in the Bear Pit), written a Sun column and appeared on Mastermind - where he chose Harry Potter as his specialist subject.
Print
© Copyright JLA: All Rights Reserved
TOPICS
Transformational Leadership, Diversity, Overcoming Adversity, Social Responsibility, The Political Landscape, Change Management
SPEECH TITLES
Managing Change
Corporate Responsibility
FEE BANDS
CONFERENCE SPEAKERS
£2.5K TO £5K
AFTER DINNER SPEAKERS
£2.5K TO £5K
YOU MAY ALSO BE INTERESTED IN...
Q&A
JLA: Can Barack Obama possibly live up to expectations?

DB: The one thing Barak Obama offers is hope. Coupled as it is with a real mandate to lead after a period of drift, this should not be under-estimated. Hopes that he will be able to wave a magic wand and immediately resolve problems in the Middle East or the global downturn are completely off beam; but a sense of momentum, of optimism and progress coupled with decisive action along the lines of Roosevelt, do seem to be on the cards and this has got to be good news for the world. The image of America will also change and this has to be a plus.


JLA: Which qualities come to the fore when pressure mounts?

DB: Leadership, clarity, boldness and confidence in acting are all absolutely critical, as is the ability to listen. These combinations don't always come together. Sometimes someone can be in the right place at the right time (like Churchill in 1940) even though after the period of challenge these are not necessarily the qualities the public wants to see. This is the challenge for Gordon Brown.


JLA: Do you see increased tensions across British society?

DB: I am more inclined to believe that people will pull together. They will grumble and look for someone to blame but overall I think they will pull together rather than divide. This will be tested in the European elections in June when the British National Party are likely to have a very good showing. They only need a swing of around 2% to get a seat in Yorkshire and Humber.


JLA: What advice can you give to help cope with unemployment?

DB: We need a spirit of enterprise and a belief that it is not down to other people to resolve our problems, but for us to make a supreme effort to do so ourselves - to show initiative and to think positively. It's important to get across to people that redundancy is not their fault, but nor is it productive to hold others responsible and do nothing. This is all about hope, self-confidence and the ability to recognise that the present circumstances are short-term, not permanent.


JLA: Do you accept (and embrace) the idea of a "new capitalism"?

DB: Most people now recognise that greater scrutiny, accountability and monitoring are required within business, and not just in terms of regulation. But I do not believe this will fundamentally change people's behaviour or how the global economy operates. We need to restore the confidence to take risks - but well thought-through and rational risks - rather than the irrational belief that money can be made out of money without skill, enterprise or endeavour. The balance of social responsibility and economic freedom may have slightly shifted in favour of the former - which is a good thing - but for the world to recover and grow enterprise, entrepreneurship and risk will still be needed.


JLA: Does recession speed up or delay the response to climate change?

DB: I believe it slows the likelihood of action. Whilst everyone is talking about measures to help the green economy and the potential for growth in those areas, the reality is inevitably going to be somewhat different! Whilst a slowing of growth itself, particularly in the developing world, may well reduce the output of carbon, there's also the simple fact that those most hurt are least likely to be receptive to lectures about green technology and alternative ways of production.
Print
ALSO SEE OUR...