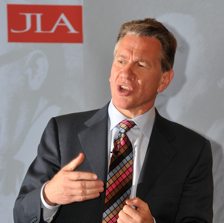 "Michael hit the spot with our very diverse partner base."
Allen & Overy
WIKIPEDIA
BIOGRAPHY
The former Enfield MP is now firmly established as a broadcaster and political commentator. Alongside television series on Spain, rail travel around the UK and Europe, and the natural world, he shares the sofa on This Week, weighs up ethical dilemmas on The Moral Maze, writes newspaper columns and reviews theatre for The New Statesman.
Michael Portillo began his career in the Conservative Party research department, developing policies for reducing the role of the state. He then became an advisor to the Secretary of State for Energy, working on privatisation schemes in oil, gas, electricity and coal.
Portillo won a parliamentary seat in the 1984 General Election, and was soon appointed a Government Whip and then Under-Secretary at the Department of Health & Social Security. In turn he was promoted to Minister of State for Transport then Local Government, where he oversaw the abolition of the poll tax.
He entered Cabinet as Chief Secretary to the Treasury, controlling public spending and managing departmental allocations. He became Employment Secretary two years later, and finally took over at Defence - with a budget of £22bn. Often considered the greatest leader the Conservative Party never had, Michael talks about the problem with politicians.
Print
© Copyright JLA: All Rights Reserved
TOPICS
Transformational Leadership, The Political Landscape, Change Management
SPEECH TITLES
Westminster and beyond

FEE BANDS
CONFERENCE SPEAKERS
£5K TO £10K
AFTER DINNER SPEAKERS
£5K TO £10K
PRESENTERS
£5K TO £10K
YOU MAY ALSO BE INTERESTED IN...
MEMBERS' INTERESTS
When he was 21, Gordon Brown won a Daily Express competition for 'A Vision of Britain in the Year 2000.' One of his first acts in office was to insist that the font for No.10 emails be changed from Times New Roman 12 to Arial 14.

Carlsberg Special Brew was created especially for Winston Churchill, as Denmark's thank-you for Britain's help during World War II.

The door to 10 Downing Street has no keyhole. It can only be opened from the inside.

In a study of common characteristics among Prime Ministers, Lucille Iremonger identified a childhood deprived of affection; extreme self-discipline; religious zeal; aggression, timidity and overdependence on the love of others.

The language used in the Chamber must conform to a number of rules. Past and present House of Commons Speakers have taken exception to: blackguard, coward, git, guttersnipe, hooligan, rat, swine, stoolpigeon, traitor and fuck.

Briefcases are not allowed in the Chamber. The reading of newspapers, magazines and letters is also prohibited. Eating and drinking (except for discreet sips to ease the voice) is not permitted, in contrast to previous centuries when visitors observed Members sucking oranges and cracking nuts.

The police shout "Who goes home?" when the House rises. This is an invitation to Members to join together in bands to cross what were the dangerous fields between Westminster and the City, or to hire boats homeward on the Thames.

A Member wishing to raise a point of order during a division was, until 1998, required to speak with his hat on. Collapsible top hats were kept for the purpose. Snuff is still provided, at public expense, at the doorkeeper's box at the entrance to the Chamber.

Print
ALSO SEE OUR...