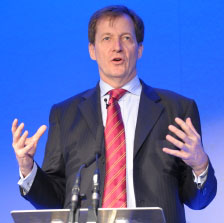 "Alastair's speech was hugely appreciated, as was his good humour with guests."
Standard Life
EXTERNAL LINKS
JLA is not responsible for the content of external websites.
WIKIPEDIA
BIOGRAPHY
For ten years Alastair Campbell was Tony Blair's right hand man as communications strategist and chief spokesman, often witnessing history in the making. He remains a key figure on the political stage, with considerable connections on both sides of the Atlantic.
As the most influential Government advisor Alastair was no stranger to controversy, working the headlines and occasionally making them. He is one of four credited with creating New Labour, fighting numerous battles in their pursuit of modernisation. He was reviled by parts of the media but still respected for his commitment, creativity, loyalty and work rate.
Since resigning Alastair has published three volumes of his diaries as well as two novels, written features on sport and politics, advised several bodies and stepped up his fundraising efforts for Leukaemia Research (Alastair is chairman of fundraising for the charity). He also accompanied the British and Irish Lions on their tour of New Zealand, without much success.
Alastair's speeches mix experience and wit. He offers a sharply observed insight into what makes strong leaders and throws light on the relationship between government, and the press - including his treatment of the media. On a lighter note, he might also reveal how a stranger behaved towards him, on Hampstead Heath.
Print
© Copyright JLA: All Rights Reserved
TOPICS
The Political Landscape, Transformational Leadership, Business Strategy, Social Responsibility, Branding & Reputation, Change Management
SPEECH TITLES
Crisis management
Adapting to the pace of change
FEE BANDS
CONFERENCE SPEAKERS
£10K TO £25K
AFTER DINNER SPEAKERS
£10K TO £25K
PRESENTERS
£10K TO £25K
YOU MAY ALSO BE INTERESTED IN...
Q&A
JLA: What is the main challenge leaders face in the modern world?
AC: The pace of change. Our generation has seen greater change than any generation in the history of humankind. The challenge for leaders and decision makers is to make sense of that change and adapt to it according to their values. It is important to remember that this becomes more, not less, important as change accelerates.

JLA: How do you stay ahead of the competition esp. in difficult times?
AC: Always challenge and disrupt your own assumptions. Test your strategy. Question it. Change and modernise if you need to. Avoid the comfort zone. Think about yourself as your opponents might do. Remember that trust is not just about the past.

JLA: What are the most important lessons you learned from crisis management in government? What can a business in trouble learn from it?
AC: Don't accept you are in a crisis just because everyone says you are. In my ten years with Tony Blair, I think we had six genuine crises but hundreds of situations described as such. Once you are in a crisis, set clear objectives, devise strategy from the centre, and pursue it with real aggression. Remember at all times that however bad it is, it will end.

JLA: Is the media too powerful?
AC: I don't believe the media is as powerful as is commonly assumed. Politicians and other decision-makers have the power to make major decisions that affect everyone's lives. Too many politicians and decision-makers across the board are far too consumed by the media, and far too cowed by it.
Print
ALSO SEE OUR...