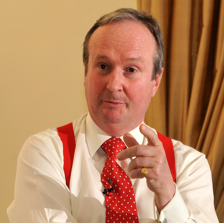 "We have had excellent customer feedback."
RBS
BIOGRAPHY
Justin is Head of Corporate Development and co-founder of Seven Investment Management, who are well known for introducing the first Sterling Wrap Account. He has also become one of the most recognisable and trusted market commentators.
With twenty years experience following the ups and downs of the markets, Justin's assessments, predictions and witty observations guide investors - professionals and amateurs alike.
After training as a barrister, Justin took up corporate finance in Africa and Singapore. He then moved into marketing with a focus on cash management facilities. This led him to help found Broker Services, which became Barclays Stockbrokers where he served as Corporate Development Director.
Justin has a keen interest in developing the investment market and breaking down many of the traditional barriers for both private investors and smaller companies. He was named Favourite Financial Personality by Proshare, writes regularly for national magazines and newspapers and is frequent appears on television and radio.
He shares his wealth of knowledge and offers a calm, clear-sighted view of the markets. Justin covers everything from the complexities of equity rallies and fallbacks, conditions of NICE (No Inflation and Creative Earnings) and VILE (Volatile Inflation and Lower Earnings), and his predictions on market movements and where the next bubble will come from.

Print
© Copyright JLA: All Rights Reserved
TOPICS
Economic Overview, Business Competitiveness
SPEECH TITLES
From 'nice' to 'vile'
A calm view of the markets
FEE BANDS
CONFERENCE SPEAKERS
£2.5K TO £5K
AFTER DINNER SPEAKERS
£2.5K TO £5K
YOU MAY ALSO BE INTERESTED IN...
Q&A
JLA: When will the markets stop betting against Eurozone countries?
JUS: 17 fiscal/tax systems and one central bank was never going to work, without clear disciplines and rules. Of course they originally had fines and sanctions - but decided to waive them! The alternative is to break up the Euro into a core group (the 'Neuro'?), with or without a secondary group of weaker nations operating at a sub value - just as South Africa had both a domestic and an overseas Rand.

JLA: How well do you expect the economy to withstand public sector cuts?
JUS: Much depends on a properly functioning banking system with more competition and more lending at the right price. We carried out surgery to get Northern Rock into shape very quickly, but RBS and Lloyds have only had Savlon and sticking plaster - reform and action is needed!

JLA: Are the right policies in place to rebalance the UK economy?
JUS: Remarkably the UK is still the world's 6th biggest manufacturing nation - not that you'd know from the media. Government initiatives must focus on our strengths as a nation of small companies. For example, why not get rid of Stamp Duty on property transactions, which would generate far more revenue in VAT from people doing up their new houses?

JLA: Is this a good climate for mergers & acquisitions?
JUS: Yes, but unlike the last cycle it wont be based on borrowings and debt. Many companies are cash rich and have paid down debt, so they're in a good position to pick up weaker competitors.

JLA: What other shocks might be lurking on the horizon in 2011?
JUS: Lots. The rise of protectionism as the US and others put up defensive trade barriers. In a different vein some European banks may have been baled out, but they still have funding to roll over, which could prove fateful. And whilst I don't see China as one huge bubble, it is rather like a bar of Aero with lots of smaller bubbles - some of which will almost certainly go pop.

February 2011
Print
ALSO SEE OUR...