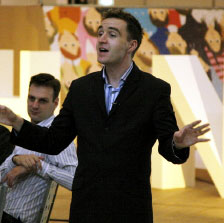 'Brilliant, intelligent messages delivered with passion and knowledge'
Nestlé
WIKIPEDIA
BIOGRAPHY
After starring in Byker Grove and studying Economics and Anthropology at Cambridge, Caspar began his adult career a screenwriter. Then at the age of 25 he made a life-changing decision and became a professional poker player in Las Vegas.
Caspar has long since retired from poker, but he retains many of the lessons learned and applies them directly to business. He identifies risk as the single most important though least understood factor in turning potentially innovative managers into dynamic leaders. As testament to this, Bill Gates claims to have discovered everything he knows about business from the poker he played at college.
After the bursting of the financial bubble (caused in large part by the failure to manage risk), Caspar argues that the priority now is not to avoid risk altogether, but to better understand and calculate it. Whether you are leading a team, making savings, planning budgets or negotiating with suppliers and customers, risk plays a central role in your life; yet when challenged, few can define the difference between a calculated risk and a reckless gamble.
In his workshops Caspar uses game playing to provide practical insights into risk, uncertainty and the science of decision-making. Offering tools (not rules), he demonstrates the difference between a calculated risk and a gamble, how to balance short and long-term goals and how to make the most of opportunities. Participants discover that when given enough information and the ability to measure probability, risk-embracing behaviour pays substantial dividends.

Print
© Copyright JLA: All Rights Reserved
SPEECH TITLES
Risk taking and decision making in poker, business and life

FEE BANDS
CONFERENCE SPEAKERS
£2.5K TO £5K
AFTER DINNER SPEAKERS
£2.5K TO £5K
YOU MAY ALSO BE INTERESTED IN...
LEARNING TO CALCULATE RISK

by Caspar Berry
Business leaders and managers have more in common with poker players than they might imagine as they navigate the increasingly choppy waters. Both take risks and make decisions in pursuit of a return on investment - whatever the short term vicissitudes.

The point is to take a long term view. Whether investing money in a poker pot or allocating resources in an organisation, the key is not to fear short-term failure. Eddison 'failed' many times to invent the light bulb before finally succeeding. Babe Ruth held the record not just for home runs but also for strikeouts. Bill Gates has famously attributed his entire business success to learning this lesson at the
poker table.

Mediocre managers can avoid failure by doing what's safe and proven time after time. True leadership involves pioneering, striking out, ?ying in the face of convention: taking risks. But there is a difference between reckless gambling and taking calculated risks. The theory of poker and the science of decision-making teach us which side of this line we sit. Properly harnessed, risk is not a threat but an opportunity to rise above the competition and exploit their fear for your gain.

Understanding poker makes us realise how we value reward and consequence. Being scared of short-term failure stops us ever daring to succeed for fear of looking foolish. But a fear of long-term failure will push us through temporary setbacks and help us achieve even the most demanding personal, professional and organisational goals.

Played by 100 million people worldwide, poker is increasingly seen as a metaphor for the way we deal with uncertainty in our lives.

© JLA 2008
Print
ALSO SEE OUR...