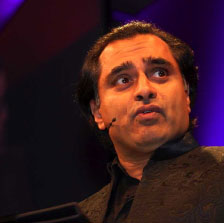 "Sanjeev really made a difference. Feedback from sponsors and guests has been impeccable."
British Parking Awards
WIKIPEDIA
BIOGRAPHY
Sanjeev enjoyed huge success with The Kumars at No.42, in which he hosted a chat show from the family living room. The show won an Emmy Award, and the personal approval of Nelson Mandela who enjoyed it so much he invited the cast to interview him in his own home.
After an early career in marketing with IBM, Sanjeev first made his name with the ensemble sketch show Goodness Gracious Me. Starring Meera Syal, to whom he is now married, Kulvinder Ghir and Nina Wadia, the show transferred from radio to television and played to sell-out audiences on tour.
Sanjeev has since presented Position Impossible, a three-part series for Channel 4 on the Kama Sutra. On stage, he has played King Arthur in Spamalot and on screen has appeared in Anita and Me, The Mystic Masseur, Notting Hill and The Guru, and picked up a three picture screenwriting deal with Miramax.
Print
© Copyright JLA: All Rights Reserved
PRESENTERS
£10K TO £25K
YOU MAY ALSO BE INTERESTED IN...