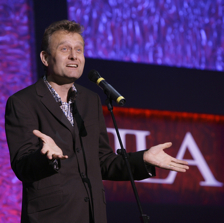 "Hugh was very professional, enthusiastic and charismatic - we loved him."
Marketing Week Awards
WIKIPEDIA
BIOGRAPHY
Hugh made his name as one half of Punt & Dennis. He and Steve Punt still appear together on Radio 4's The Now Show, whilst Hugh also captains his team on Mock The Week, stars in Fast and Loose, and plays the lead in Outnumbered - the wonderfully inventive semi-improvised BBC sitcom.
After originally working as a brand manager for Unilever, Hugh turned a talent for impressions to better use and began to provide voices for Spitting Image. He then became a regular guest on the Jasper Carott Show and joined the team on The Mary Whitehouse Experience, which first aired on the radio.
Hugh and Steve starred in several peak time series of their own, including The Imaginatively Titled Punt & Dennis Show - and Me, You and Him. Hugh then went on to star alongside Ardal O'Hanlon in My Hero.
Print
© Copyright JLA: All Rights Reserved
AFTER DINNER SPEAKERS
£5K TO £10K
PRESENTERS
£5K TO £10K
YOU MAY ALSO BE INTERESTED IN...