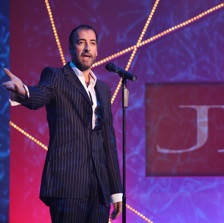 "Alistair absolutely struck exactly the right note with our awards."
Whitbread
WIKIPEDIA
BIOGRAPHY
Alistair McGowan has been hailed by The Times as a 'voice virtuoso.' His repertoire includes a gallery of politicians, pop stars and sportsmen - like a romp through the news, gossip columns and back page headlines.
After appearing at Edinburgh with his original comedy partner Harry Hill, Alistair cut his impressionist's teeth on Spitting Image - bringing Tony Blair, Chris Eubank and Prince Charles to life. He also provided the voice of Gary Lineker in a West End play, before playing David Beckham to Ronnie Ancona's Victoria.
Alongside comedy Alistair has also amassed a string of 'serious' acting credits. He played the lead (and script-edited) the detective drama Mayo, starred in the award winning BBC adaptation of Bleak House and more recently joined the cast of Skins. Onstage he's appeared opposite Judi Dench in the RSC's Merry Wives of Windsor, and with Connie Fisher in They're Playing Our Song. He also took the lead role as 'Emcee' in the West End revival of Cabaret and starred as the Mikado in the Gilbert and Sullivan operetta.
Offstage Alistair has campaigned against the proposed new runway at Heathrow, and co-written a book with Ms Ancona: A Matter of Life and Death. It's part autobiography and part comedy self help guide, recounting his struggle to overcome a disturbing addiction to football.
Print
© Copyright JLA: All Rights Reserved
PRESENTERS
£10K TO £25K
ENTERTAINMENT
£10K TO £25K
YOU MAY ALSO BE INTERESTED IN...