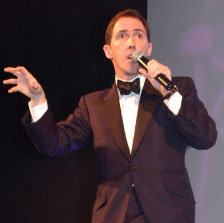 "The most popular and professional host in the history of our event."
Contract Publishers Awards
EXTERNAL LINKS
JLA is not responsible for the content of external websites.
WIKIPEDIA
BIOGRAPHY
Rob Brydon stars as Uncle Bryn in the hugely popular comedy Gavin & Stacey. Originally a Radio Wales DJ, he first captured viewers' imagination as Keith, the eternally optimistic chauffeur with his bittersweet, painfully comic tales in Marion and Geoff.
This led to The Keith Barret Show, in which the host cheerfully delved into and often ripped apart his guests' relationships. Since then he has starred in the sitcom SuperNova, played Roman Devere in Little Britain and fronted the panel show parody Rob Brydon's Annually Retentive.
Other credits include I'm Alan Partridge, Black Books, and Cruise of the Gods, and the feature films 24 Hour Party People and Tristram Shandy: a Cock and Bull Story (which indirectly lead to his cult BBC2 hit with Steve Coogan, The Trip). He also pops up regularly on Have I Got News For You, Just A Minute and QI.
Onstage Rob is a natural entertainer and seasoned awards host. He might well hark back to his alter ego's Keith Barret's miserable childhood, or regale audiences with uncannily accurate impressions of two Welsh heroes, Anthony Hopkins and Tom Jones. The 'man trapped in a box' may also make an appearance.
Print
© Copyright JLA: All Rights Reserved
PRESENTERS
£10K TO £25K
YOU MAY ALSO BE INTERESTED IN...
AS IT SHOULD BE

by Rob Brydon - Esquire Magazine Oct 08
Hosting an awards event can be the ultimate barometer of whether you're hot or not, as our columnist discovers.

Tact is something that cannot be taught. Some have it, some don't, and some wouldn't know it if it sat on their face and farted the theme to Begerac. the fact that I have been blessed with almost super-human quantities of the substance makes it all the more difficult for me when I encounter those who possess little or none.

One of the lesser known facets of my wonderful life is the hosting of the odd corporate awards do. Often the organisers like to meet up a few weeks before the event, to talk through their plans for the evening. there's no real need for such a meeting, as generally speaking one corporate awards do is much like another, but these pre-match summits seem to be popular with the people who plan them, so who am I to foul the footpath? At one such meeting, all was going well until it was casually mentioned that the identity of the host was a well guarded secret, only to be revealed as I walked out onto the stage.

Oh dear.

In this utopian vision of the awards do to end all awards dos, my entrance would no doubt be greeted with massed gasps, dropped jaws and a rapidly building crescendo of celebration. Don't get me wrong; I'd love such a response, but the reality of the situation is that I've never been that sort of actor/comic/celebrity/turn. I've never been the man of the moment, Mr Zeitgeist, an"oh my god look who's here!' sort of chap. My good friend James Corden, the man of this and, I'm sure, many future moments, once told me of a lunch enjoyed in New York with the wonderful Bob Balaban*, who told him how it is the worst thing in the world for an actor to be hot. "Never be hot," he said. "Don't be cold either, just be warm." And that's how I see myself. Warm. Warm and simmering. A simmering contentment as opposed to resentment; a lovely cosy warm.

With this in mind I worried that my grand entrance, rather than eliciting the desired surprise and delight, would in fact invoke something more akin to shock.

And so we return to tact. My host went on to tell me how only a very few of the top brass back at the office were aware of who would be fronting this year's ceremony, and that the building had been "buzzing" with suggestions as to who this uber-celebrity might be. My unease grew as she bounded like a dog leaping from a pavement straight into the path of a bus, with me pulled along by the lead. "All sorts of names have been mentioned," she said, before adding as though it had only just occurred to her, "Yours hasn't come up actually." I smiled in an effort to suggest that my omission was the fault of all those out-of-the-loop idiots back at the office rather than any failing on my part. Like Monica Lewinsky's favourite dress, it didn't wash.

When the evening arrived, I bounded on to the stage to an overpowering wave of mild curiosity. I peered into the darkness... "I know," I said "I thought it was going to be Russell Brand, too..."




* You don't know who Bob Balaban is? Google him. I rest my case.
Print
ALSO SEE OUR...