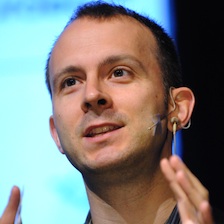 CONFERENCE SPEAKERS
£5K TO £10K
AFTER DINNER SPEAKERS
£5K TO £10K
TIM HARFORD
Intelligence Squared 1 May 2013
Interviewing Nate Silver on The Art and Science of Prediction for Intelligence Squared.

Our thanks to you for making such a splendid job of chairing the event last night with Nate Silver. You were absolutely on the button and injected a wonderful sense of fun throughout your conversation with Nate and in the Q and A. And I think the audience really enjoyed themselves, which of course is the main thing.

We would really love to ask you back some time and I hope to be in touch again before too long.
Conference Speakers Feedback
University Of Southhampton 19 Mar 2013
Even though I only had the good fortune to be part of the process of your coming to present to us. I don't think I have ever been the recipient by proxy of so many accolades about a single presentation, and indeed so successful a conference. It's not just the words people have used in admiration of your well-crafted talk, but rather more the enthusiasm and the "reconnection" within our discipline that people seemed to have experienced. It was more than we dared hope for. Thank you.

It's been an absolute pleasure working with you on this venture, and have really appreciated your personal qualities of kindness, civility and consideration. I can't recall ever hearing so fluent, incisive and relevant an opening speaker in my many years in academic primary care. Your intuitive grasp of our discipline was uncanny. Your ability to use tools of science and narrative was evidently inspirational across the whole range of backgrounds in the audience!!

Although I now feel very relieved that the conference went so well, I also feel a little sad that we will not have Tim Harford's direct input in the foreseeable future. Should you choose to write or present on our discipline in the future you would have a great deal to offer.
Conference Speakers Feedback
SW Branch Of The Society Of Academic Primary Care. 11 Mar 2013
Thank youTim. It's hard to put in words how much you were appreciated. But hope to forward some feedback soon.Suffice to say your effect was "nuclear"!
Conference Speakers Feedback
The School Of Life 27 Feb 2013
How well did the speaker/artist/presenter meet your objectives? Splendidly. He rounded out the panel with the kind of forensic insight we were looking for, which complemented the styles of the other two guest speakers.

How would you describe the audience reaction? Inquisitive, inspired and satisfied.
Conference Speakers Feedback
Schroders 29 Jan 2013
Thank you for last night - I thought your speech went down really well and your comments were perfectly tuned into some of the discussions we have had over the two days.

Thank you again and I hope we will be able to do some more events in the not too distant future!!
After Dinner Speakers Feedback
Santander 11 Dec 2012
Tim met our objectives really well. His presentation style is relaxed, which fitted well with a small gathering. The topic was interesting to a wide range of clients and I was particularly pleased that he took the effort to circulate around the room after the presentation.
After Dinner Speakers Feedback
IRM 1 May 2012
Our feedback has been excellent. He tailored his material to his audience and it was well received. I had expected to hear a bit more about his latest book 'Adapt' but the content of the presentation was good, nevertheless.

Tim is a compelling speaker on a relevant subject and the audience was fully engaged.
Conference Speakers Feedback
IPSOS MORI 2 Dec 2011
t was an absolute pleasure having you speak at our conference. Your talk was very well received. It was a good day (and tiring being the compere!), but very worthwhile.

I hope our paths cross again in the future and I wish you every success with your next literary venture!
Conference Speakers Feedback
LUCID Group 7 Nov 2011
Many delegates have already reported to us that they consider the meeting to have been a great success, primarily due to the presentations from the invited speakers. We, the Committee, were also impressed by the high standard of the lectures, bearing witness to the hard work and preparation that had gone into them.
Conference Speakers Feedback
RAPP 2 Jun 2011
Tim was very well received and his presentation really hit the mark. He also made a valuable contribution to our panel session later in the morning (and he appraised me of the location of the third best coffee shop in London, just around the corner!).
Conference Speakers Feedback
SAS 20 May 2011
A slightly belated note to say thank you for your talk last week.. I think the guests all enjoyed themselves, and the feedback we have had was great.

It's always hard to tell with the insurance crowd, as they tend to be a bit serious - but a couple of them came for a beer afterwards and said they thought your analogies were very good. The scary thing is that they think that they have got risk sewn up and that they don't need any help... I seem to remember similar comments from a guy at AIG in 2007!

I hope your trip to the US goes well, and wish you all the best for your book launch.
After Dinner Speakers Feedback
SAS (client Dinner) 12 May 2011
I just wanted to send you a quick note to say that the feedback we've had so far from our guests at last night's dinner regarding Tim Harford has been really positive. All the guests enjoyed meeting Tim and hearing him speak. They all found the talk very informative.
After Dinner Speakers Feedback
Janus Capital International 7 Jul 2010
How well did Tim meet your objectives?


Tim delivered thought provoking and engaging talk. It's only a shame he had to rush off so early, as I know the people who did manage to talk to him over lunch really enjoyed the opportunity. It would have been nice for some of the other guests too. However, definitely met objectives for the day.

How would you describe the audience reaction?

Tim went down really well, as we're had various guest write 'Thank you' notes and all mentioned how much they enjoyed the talk and also having the opportunity to talk to him one-to-one.
Conference Speakers Feedback
Philip, RAC Foundation 29 Mar 2010
We were extremely pleased to have Tim participate at our low carbon vehicle event, especially given that our invitation to him was very much last minute.
He was articulate, engaging, confident (without being agressive) and had the numbers to back up his thoughts. Everyone we spoke to thought his contributions were incisive and they enjoyed hearing him speak.
The only disappointment was that there wasn't more time to hear from him - but that is a refelction of the format of the event, not of Tim. I would not hesitate to use him again.
Conference Speakers Feedback
Credit Suisse 12 Jun 2009
Tim was amusing and interesting, but could perhaps have worked closer to the brief.
Conference Speakers Feedback
Catering Equipment Distributors Association 22 May 2009
(To Tim )

Personally, your presentation was first class – as well you know, Economists are not normally a welcome addition at any Trade Conference, because of the unfair 'dull' tag that they are attached to and the fact that many would regard the presentations as being unduly morose and depressing. You, and your presentation was none of these.

You have a great style, and engaged with the audience very well. Your reflections on life were all fascinating. Great dialogue, good humour and presentation style, creating a wonderful atmosphere. All round, 'Excellent.'
Conference Speakers Feedback
Alexia, Virgin Management 8 May 2009
The audience were totally engaged and entertained.
Conference Speakers Feedback
Keiron, The MotivAction Group Plc 7 May 2009
Tim's presentation was excellent, incredibly valuable, it was also very engaging and entertaining. We really appreciated him taking the time to create it.
Conference Speakers Feedback
Steve, Standard Life 7 May 2009
Very well received and fulfilled our expectations of entertaining, challenging and engaging the audience.
Conference Speakers Feedback
Sarah, Trinity Expert Systems 7 May 2009
The audience reaction was great! A lot of people were either smiling, laughing or taking notes so it was very much enjoyed by all. In our customer feedback cards all our delegates stated how informative and well presented it was. A great evening!
After Dinner Speakers Feedback
Virlina, Leadership Centre For Local Government 7 May 2009
We were very pleased and would certainly consider inviting him to another event in the future.
Conference Speakers Feedback
Chaher, Canalys 20 Feb 2009
Tim was great, and very professional. The audience gave us some excellent feedback on his speech. Overall it ranked second compared with all the content through the two days, and particular praise was given to Tim's delivery style, and sense of humour.
Conference Speakers Feedback
Penka, The University Of Chicago Booth School Of Business 11 Feb 2009
Tim was a great Chicago Booth business forecast moderator. He engaged the panelists and the audience well and wonderfully enhanced our event.

With his solid knowledge of current business and economic issues, he is the perfect person to moderate a business forecast where complex issues are being discussed.
Presenters Feedback
Last comment
Chartered Institute Of Taxation 31 Oct 2008
"Tim pitched it exactly right - setting out a range of issues our organisation needs to think about when looking at green taxes."
Conference Speakers Feedback
Back to top
LEAVE FEEDBACK
Only fields marked(*) will be published publicly
SEARCH FEEDBACK
SEARCH FEEDBACK BY NAME
Should you wish to leave feedback for someone not listed on the site, please contact us.
The views expressed are those of the individual and do not necessarily reflect the view of JLA.