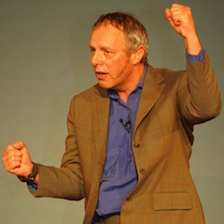 CONFERENCE SPEAKERS
£5K TO £10K
SIMON WOODROFFE
OBE
Vicky, Deloitte 8 May 2009
I was told prior to the day that Simon was a great presenter and he more than lived up to this expectation. I think what he did was prove that you can achieve your goals and overcome resistance to your ideas if you have the determination. This was exactly aligned to the message that we wanted the seminar to put across to our people.
Conference Speakers Feedback
Rachel, Totaljobs Group Ltd 8 May 2009
I realise that many speakers on the circuit have one speech that they bring out for every occasion, and I expected Simon to keep to his usual 'script', however I would also expect some notice would have been taken of our conference call the week before, where we chatted about what content he would use and how we'd like him to touch on the subject of recruitment and bringing in/retaining talent. No reference of this subject was made until the question and answer session, and a number of our clients commented that the content wasn't recruitment-focussed enough.

We also discussed how he would sing and went to great lengths to ensure that we ordered extra mics, staging for the performance (at a cost). You can understand our surprise when he didn't perform at the end and then left as soon as he had finished speaking. There was a definite feeling towards the end of the talk that he was wrapping up quickly to leave, which coupled with his lack of focus on the areas we had discussed, was a bit disappointing.
Conference Speakers Feedback
Last comment
David, The University Of Sheffield 25 Mar 2009
I have used Simon for several conferences.His sessions are always thought provoking and entertaining.
His singing is also worthy of a mention !
Conference Speakers Feedback
Back to top
LEAVE FEEDBACK
Only fields marked(*) will be published publicly
SEARCH FEEDBACK
SEARCH FEEDBACK BY NAME
Should you wish to leave feedback for someone not listed on the site, please contact us.
The views expressed are those of the individual and do not necessarily reflect the view of JLA.