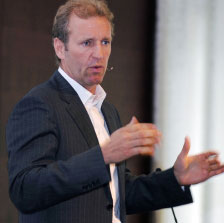 "The delegates were mesmerised"
Swiss RE
WIKIPEDIA
BIOGRAPHY
After a successful playing career in Germany's national ice hockey team, Ralph took over as coach of Switzerland and turned a previously lacklustre team into world champions.
In his presentations Ralph explores the elements necessary to build a high performance team. He places team spirit above individual success, a philosophy he also explores in his book Teamlife: from failure to success.
Why does everyone crave success?
More importantly, what does it takes to remain successful?
What makes a good team, at work or at play?
Ralph Krueger has surprisingly simple answers and solutions to these questions, with theories based on his own real life experiences. He is a well respected speaker and motivational guru throughout the business world.
Print
© Copyright JLA: All Rights Reserved
TOPICS
Peak Performance, Transformational Leadership, Overcoming Adversity
SPEECH TITLES
Unbeatable team spirit
Keeping up team spirits
FEE BANDS
CONFERENCE SPEAKERS
£5K TO £10K
YOU MAY ALSO BE INTERESTED IN...