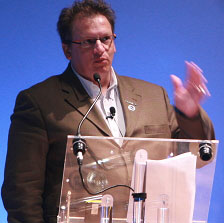 "The most motivational corporate speech we have ever heard"
Liberata UK
EXTERNAL LINKS
JLA is not responsible for the content of external websites.
BIOGRAPHY
PY Gerbeau is a serial entrepreneur. After accomplishing nine successful turnarounds he created a £600m property portfolio as CEO of X-Leisure, before overseeing the sale to Land Securities in 2013. He serves as Visiting Professor of Entrepreneurship and Corporate Rescue at London Business School and Imperial College.

Having honed his skills at Disneyland Paris, PY famously became Chief Executive of the Dome in February 2000. He achieved a great deal with the much maligned government-built attraction, generating over six million visitors. Such is his energy that on a rare day off he won the Pro-Am in the Alfred Dunhill Cup at St Andrews.
In presentations PY explains how the prevailing economic climate requires each and every tier of management to be agile, accountable and better at balancing risk. Decisions must be firm and consistent - not based on a popularity contest. And at a time when even established brands can be destroyed in an instant, managers must ensure that the organisation's values are understood and upheld by everyone. Above all, they should lead by example.
Outside the boardroom PY is a scratch golfer and a former Captain of the French Olympic Ice Hockey team. He has been voted Personality of the Year by his leisure industry peers, holds an MBA from one of France's leading business schools and frequently appears in the media as the most famous Frenchman to have chosen to live in London.

Print
© Copyright JLA: All Rights Reserved
TOPICS
Corporate Turnaround, Change Management, Transformational Leadership, HR & Training, Customer Service & CRM, Business Strategy, Business Competitiveness
SPEECH TITLES
Business Recovery
Guarding and 'Living' the Brand
Lessons from a Serial Entrepreneur

FEE BANDS
CONFERENCE SPEAKERS
£2.5K TO £5K
AFTER DINNER SPEAKERS
£2.5K TO £5K
YOU MAY ALSO BE INTERESTED IN...
WHEN THE GOING GETS TOUGH

by Pierre-Yves Gerbeau
Change and crisis management is about protecting your customers, your people, your brand and your business.

There is no single, universal prescription. Every situation and organisation is different; every country and market has its specific characteristics. But at the heart of every action plan is the need to understand employees' and customers' behaviour, motivation and expectations. Walk the floor, listen to customers, communicate the vision and lead by example.

Be flexible, keep an open mind and surround yourself with people who challenge the usual ways of thinking. Anyone who believes he or she is always right is wrong. The leadership team must be adaptable, agile, accountable, able to prioritise and to balance risks. It must take quick, pro-active decisions and work for quick wins on priority areas.

When taking tough decisions be fair, firm and consistent. Be prepared for those, including hard-core sceptics and some middle management, who seek to obstruct progress. Managing change is not a popularity contest - but always remember to treat others as you would want to be treated.

Brand values and reputations take years to build and moments to destroy, so protect them.

Make sure the promise and ethics of the organisation are understood and spread by employees and business partners. They are the keepers of the brand.

Above all, leaders must remember that their best asset is not product or strategy, but people. With a proper management culture and values, even a tough trading environment brings opportunities.
Print
ALSO SEE OUR...