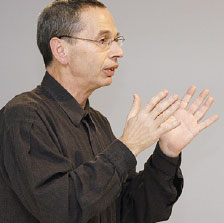 EXTERNAL LINKS
JLA is not responsible for the content of external websites.
WIKIPEDIA
BIOGRAPHY
Frank Furedi is Professor of Sociology at the University of Kent. He is an expert in the different manifestations of risk consciousness. His research looks at the relationship between diminishing cultural authority and society's capacity to manage risk and change.
Furedi looks at how knowledge intermediaries - alternative research organisations, advocacy groups, NGOs, think tanks, and Internet based research groups - play an important role in influencing public perception, especially in relation to the framing of disasters.
Exploring the structure of rumours in risk related episodes and controversies, from terrorism to MMR to sudden floods, he looks at how rumours are spread in order to help businesses and government departments contain and control such developments in future.
Frank Furedi has written several books, including Politics of Fear - arguing for a new concept of politics away from traditional labels of left and right. Other books include Where Have all the Intellectuals Gone, Therapy Culture and The Silent War.
Print
© Copyright JLA: All Rights Reserved
TOPICS
Risk, Creative Thinking
SPEECH TITLES
The culture of fear
FEE BANDS
CONFERENCE SPEAKERS
£2.5K TO £5K
YOU MAY ALSO BE INTERESTED IN...
Q&A
JLA: How is the 'dumbing down' of education, culture, media and politics reflected in business?

The pursuit of ideas, experimentation and creativity in the arts is undermined by society's difficulty in affirming open-ended journeys of discovery. Instead it seeks predictability and a risk-free environment where the unexpected can be managed. Business seems far more interested in producing codes, guides, mission statements and rules in order to save individuals from the trouble of having to think and learn from their experience.

JLA: What effect will the risk aversion of parents have on the employees of the future?

FF: The real problem is our reluctance to allow children to live, breathe and gain experiences unsupervised. We should encourage children's sense of adventure and resilience, giving them more time in adult-free environments. Businesses must encourage more go-getting and risk-taking behaviour amongst the young.

JLA: How do you best deal with office politics?

FF: With the ascendancy of the language of rights, interpersonal conflict has gained a new lease on life in the form of disputes over harassment, bullying and discrimination. Routine disputes between employees have become politicised and bullying has emerged as an all-purpose frame through which individuals can represent their case. I advise 'throwing out the rule book' and coming up with rules that work for you.

JLA: What are the hidden costs of compensation culture?

FF: What is most regrettable is the impact on the quality of services and community relations. The threat of litigation creates a preoccupation with risk assessment, orienting the energies of managers away from service delivery.
Print
ALSO SEE OUR...