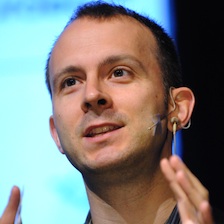 "Everybody loved your talk"
Sir Richard Branson
WIKIPEDIA
BIOGRAPHY
Tim Harford is a world renowned behavioural economist and award-winning Financial Times columnist. Frequently described as 'Britain's Malcolm Gladwell,' his first two books, The Logic of Life and The Undercover Economist, have been translated into 30 languages and sold well over a million copies. He is also presenter of Radio 4's More or Less, and Pop Up Economics.
Revealing the everyday realities of economics, Tim considers how the world, people and organisations work and the truth behind risk, decision making and commerce. Whilst he's a 'serious' economist with a career spanning Oxford, Shell and the World Bank, Tim's FT columns dwell on the economics of daily life and offer tongue-in-cheek solutions to readers' problems.
Tim's first book, The Undercover Economist was likened to Freakanomics in its examination and explanation of the workings of everything from coffee shops to organised crime to development aid. In The Logic of Life, he applied economic theory to the world adding to the store of theories from the likes of Richard Thaler and Daniel Kahneman on how rational (or otherwise) our decisions are.
In Adapt: Why Success Always Starts With Failure, Tim showed how the challenges we face can't be solved with simple ready-made solutions; we must learn to improvise rather than plan. Drawing on psychology, evolutionary biology, physics, maths and economics, he shows how adaptive, trial-and-error processes can help tackle everything from innovation to financial crises. Gillian Tett described it as "required reading for anyone trying to navigate an increasingly complex world." Whilst in The Undercover Economist Strikes Back, Tim looks at the truth behind the headlines now that economics has become front-page news. He explains how a national economy really works, why all countries are in debt, how a job is created, and whether the bonus culture works.
Drawing on the frontiers of economic research, Tim's speeches cover everything from theories on how to save the world from disaster to how we can match odd socks, lose weight and find happiness. He might also reveal the hidden logic of the world around us: when a teenager commits a burglary or a smoker lights a cigarette we seem to be a million miles from common sense - or are we? Weaving evidence from sources like casinos and speed-dating, Tim shows that human behaviour is actually surprisingly logical in the same highly accessible style as in his BBC2 series Trust Me, I'm an Economist.
Print
© Copyright JLA: All Rights Reserved
TOPICS
Behavioural Economics, Business Strategy
SPEECH TITLES
Why success always starts with failure
"Trust me, I'm an Economist"
The Logic of Life

FEE BANDS
CONFERENCE SPEAKERS
£5K TO £10K
AFTER DINNER SPEAKERS
£5K TO £10K
YOU MAY ALSO BE INTERESTED IN...
EXTRACT FROM JLA SPEAKERS BREAKFAST

by Tim Harford
How do people behave in a recession?

There is a lot of guesswork in the newspapers. The Sun has a theory that sales of maternity dresses have risen - as a result of people indulging in a low-cost enjoyable activity.

Economists believe that above all, people's behaviour is shaped by incentives. Benjamin Franklin famously said that nothing is certain but death and taxes. It turns out he was wrong.

In 1979 the Australian government announced the abolishment of inheritance tax with effect 1st July. Very curiously the death rate began to fall sharply in late June, kicking up in early July.

Then they announced that any baby born after 1st July would be eligible for a bonus of $3000. The birth rate on 1st July was the highest in Australian history, double the birth rate on 30th June. So whether you are entering the world or leaving it, people respond to incentives.

Disposable income has not yet fallen, but spending has. This is caused by fear. Consumers will cut back - but what on? In one word - socks.

The obvious choice would be luxuries - but this will have an immediate impact on your quality of life. In the end you might have to cut out the holidays and restaurants, but what would you do first? You have a virtual savings account - the things around your house which you would like to replace but don't have to. The hard durables like your washing machine, your car, and the soft durables, such as socks.

Whether you are dealing with suppliers, business customers or consumers, if you don't recognise that everyone is having a different experience, you are in trouble. We forget that some people are having an OK time, because the mainstream media is focussed on the average and on average in a recession people are poorer. But many people are doing very well. At the end of the last recession half the country was substantially richer than at the beginning.

The message is that individual experience completely swamps the average. What happens to you in a recession is much more to do with whether you decide to go to university, have a baby, take time off work, get lucky, have a promotion. This is what is most important for the individual.





Print
ALSO SEE OUR...