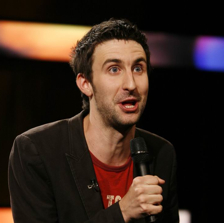 EXTERNAL LINKS
JLA is not responsible for the content of external websites.
WIKIPEDIA
BIOGRAPHY
Mark Watson was nominated for a Perrier as a member of Cambridge Footlights. Within a year he won the Telegraph's Open Mic competition and reached the finals of Channel 4's So You Think You're Funny? He went on to scoop the inaugural if.comedy Edinburgh award.
Now firmly established as one of the leading lights of a new, intelligent comedy, Mark combines first-rate observational material, with a breathless Bristolian delivery that fits perfectly with his sense of amazement and confusion at the world.
He manages to mix the cynical and the innocent to great comic effect, both as a stand-up and as an increasingly prolific novelist. After three works of fiction, Mark stepped into the world of non-fiction with an honest assessment of his carbon footprint in Crap At The Environment.
Despite being perhaps best known for his role advertising pear cider, Mark also is the host of BBC4's off-beat celebrity quiz We Need Answers and ITV4's Mark Watson Kicks Off, where he gets to showcase his love of football. Mark has appeared on Never Mind The Buzzcocks, Mock The Week, Have I Got News for You, Michael McIntyre's Comedy Roadshow, and Armando Iannucci's Time Trumpet.
Mark is also a regular voice on Radio 4 with three series of Mark Watson Makes The World Substantially Better; through his eyes things really can be improved remarkably easily even if he doesn't always follow his own advice.
Print
© Copyright JLA: All Rights Reserved
ENTERTAINMENT
£10K TO £25K
YOU MAY ALSO BE INTERESTED IN...