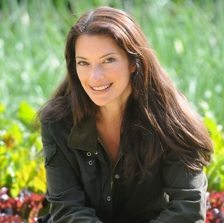 "Rachel was great, the event went very well."
National Trust
BIOGRAPHY
Rachel is a regular presenter on Gardener's World and hosts her own BBC series, Small Town Gardens. Previously she was gardening consultant for The Vanessa Show and a reporter for Heart of the Country.
Rachel trained as a professional ballet dancer, but a prolonged bout of glandular fever cut her ambitions short. She was spotted by a model agency and enjoyed a highly successful modelling career which led to acting roles in the mini-series Merlin and the British movie Bodywork.
Acting wasn't Rachel's main ambition. Instead she decided to indulge her true passion and enrolled at the English Gardening School. After graduating with distinction, auditions for Gardener's World followed, and she found herself, in a roundabout way, back in the world of the media.

Print
© Copyright JLA: All Rights Reserved
PRESENTERS
£2.5K TO £5K
YOU MAY ALSO BE INTERESTED IN...