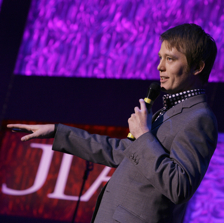 "Perfect. Alun exceeded expectations, the audience loved him."
Upstage
WIKIPEDIA
BIOGRAPHY
As a headline act or compere, Alun Cochrane mixes friendly storytelling with sharp one-liners and off-the-cuff wit. Versatile and wonderfully quick thinking, he combines irresistibly silly routines with honest, straightforward gags.
Alun is topical, vulnerable and sometimes just a little rude, whether picking on computer jargon or recounting his own cringe-worthy confessions. It feels like stand-up at its least formulaic and most amusing.
Described by one critic as "attractively dour," Alun is already a seasoned panelist on Mock the Week, 8 Out of 10 Cats and Just a Minute. He is a co-presenter on Absolute Radio's The Frank Skinner Show and has also appeared on Michael McIntyre's Comedy Roadshow and John Bishop's Britain. Alun has performed live all over the world from New York to Hong Kong, via Belgium.
Print
© Copyright JLA: All Rights Reserved
PRESENTERS
£5K TO £10K
ENTERTAINMENT
£2.5K TO £5K
YOU MAY ALSO BE INTERESTED IN...