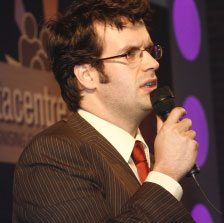 PRESENTERS
£5K TO £10K
ENTERTAINMENT
£5K TO £10K
MARCUS BRIGSTOCKE
Finance & Leasing Association 27 Feb 2014
Thank you so much for entertaining us after dinner on 25th February. The feedback has been excellent and I am most grateful to you.
Entertainment Feedback
Lynn, Reed.co.uk 16 May 2013
Marcus did a great job and exceeded all expectations. His mix of enthusiasm, charm and intelligent wit had our audience falling out of their seats. He was very personable and happy to mingle with the crowd before and after the awards.
Presenters Feedback
Pro.Manchester 29 May 2012
As always we were looking for the right mix of intelligent humour and current affairs. The audience of senior professionals can sometimes be hard to please but on this occasion we feel he had the balance just right. The audience were engaged and very entertained.
Entertainment Feedback
Kirsty, Crown Business Communications 22 Jun 2009
In terms of performance Marcus was spot on- he gauged the level of the audience well and improvised effectively around the script, encouraged interaction and dealt brilliantly with a bit of well mannered heckling. One comment I would make is that when he first arrived he was very short with myself and the client – seemed very impatient and as if he did not really want to be doing the gig. I understand he is very busy and there was a slight delay to the start of the technical rehearsal but a little bit more of a 'can do' attitude (considering the size of his fee) would be appreciated. He made up for the slightly 'off' start with an excellent performance but things are so much easier when artistes are a little more polite!
Presenters Feedback
Michelle, Iceland Foods 8 May 2009
Marcus was fabulous. He was also a great guy from a production perspective; very friendly, easy going and accommodating when things overran.
Entertainment Feedback
Jump to feedback form | Back to top
The Teaching Awards 7 May 2009
Marcus was a riot and the event was a lovely ice-breaker for everyone concerned! I thought that Marcus Brigstocke was very funny and I really enjoyed the informal atmosphere. We enjoyed the comedian very much!
Entertainment Feedback
Amy, RICS 27 Nov 2008
Marcus was very funny, entertaining and well received by the audience, and this audience can be quite difficult to please.
Entertainment Feedback
Paanisha, Venture Marketing 24 Nov 2008
Marcus met the objectives set well. His stand up was engaging, un-offensive and had the audience in fits of laughter. His presentation of the awards was great and Marcus completed this in a timely manner.

The audience warmed to Marcus well. The table of guests I was sitting with were in hysterics throughout his entire 20 minutes stand up session.
Presenters Feedback
Katherine, United Business Media 20 Nov 2008
Marcus was fantastic at the Security Excellence Awards and got the tone of the evening just right. Judging from feedback, he is the most popular host in the ten year history of the Awards!
Presenters Feedback
The Lawyer Awards 31 Oct 2008
"Marcus was utterly brilliant."
Presenters Feedback
Campaign Press Awards 31 Oct 2008
"Great at the awards, loads of energy, improv and wonderful with the winners."
Presenters Feedback
Jump to feedback form | Back to top
Last comment
Technology For Marketing Awards 31 Oct 2008
"The funniest man in corduroy! Fast, funny, topical, smart, observational humour."
Entertainment Feedback
Back to top
LEAVE FEEDBACK
Only fields marked(*) will be published publicly
SEARCH FEEDBACK
SEARCH FEEDBACK BY NAME
Should you wish to leave feedback for someone not listed on the site, please contact us.
The views expressed are those of the individual and do not necessarily reflect the view of JLA.