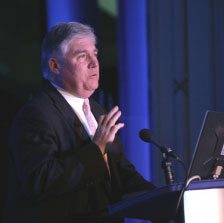 CONFERENCE SPEAKERS
£2.5K TO £5K
AFTER DINNER SPEAKERS
£2.5K TO £5K
DOUGLAS MCWILLIAMS
Jennie, RCM 25 Nov 2010
Douglas was a great speaker he met brief and presented with this in mind. Feedback from his presentation was very positive, the audience found him to be very informative and knowledgeable and he presented very clearly. Of our four conferences we have held in the past, he has been the best keynote speaker so far.
Conference Speakers Feedback
Stuart, Qube Global Software 15 Oct 2009
Doug was an excellent speaker, proving to be authoritative and entertaining. His knowledge of his subject was impressive.

We received an enormous amount of feedback on our event as a whole and any mentioning Doug was exclusively positve. The bottom line is that our audience thoroughly enjoyed his presentation and we thank him for that.
Conference Speakers Feedback
Catering Equipment Distributors Association 22 May 2009
(to Douglas)

Personally, your presentation was simply 'excellent' – as well you know, Economists are not normally a welcome addition at any Trade Conference, because of the unfair 'dull' tag that they are attached to, that their forecasts are 'off-piste', and the fact that many would regard the presentations as being unduly morose and depressing. You, and your presentation was none of these.

You engaged with the Audience very well, your message was entirely understood [ not withstanding the forecast ] with good dialogue and support information and you brought grace, charm and good humour to the proceedings, which created a wonderful atmosphere. All round, 'Outstanding.'

Thank you once again. I would certainly recommend you for future events, and I hope that we may meet again.
Conference Speakers Feedback
Sandra, BT 7 May 2009
Engaging and interesting - had the audience riveted to their seats.
Conference Speakers Feedback
Last comment
Cognetas 31 Oct 2008
"Doug spoke knowledgably and entertainingly."
Conference Speakers Feedback
Back to top
LEAVE FEEDBACK
Only fields marked(*) will be published publicly
SEARCH FEEDBACK
SEARCH FEEDBACK BY NAME
Should you wish to leave feedback for someone not listed on the site, please contact us.
The views expressed are those of the individual and do not necessarily reflect the view of JLA.