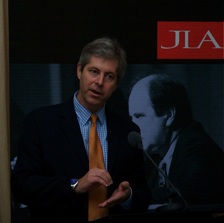 "Justin was surprisingly amusing, very insightful and the Q&A worked extremely well."
Bridgepoint Capital
EXTERNAL LINKS
JLA is not responsible for the content of external websites.
WIKIPEDIA
BIOGRAPHY
After serving as BBC North America Editor, Justin joined the team of presenters on Radio 4's influential Today programme. He now interviews the great and the good and those making the day's headlines - alongside John Humphrys, Jim Naughtie, Sarah Montague and Evan Davis.
In the US Justin covered all the twists and turns of the Presidential election, making him ideally placed to assess how the recession-fighting administration measures up to the challenge. As well as becoming a senior member of the White House press pack, he was the first British journalist to be granted a full television interview with President Obama.
Justin previously reported from Brussels as the BBC's European Correspondent. He has also covered elections in Australia, a coup in the Maldives and Mafia trials in Italy. And as well as various overseas postings, he has anchored Breakfast News and The World Tonight.
Justin Webb is an extremely assured conference chair and awards host, and a wonderfully engaging speaker. After dinner he uncovers the truth about America and Americans (as in his books Have A Nice Day and Notes on Them and Us) - and has great fun demonstrating some of the differences in interviewing styles between 'Old' and 'New World' journalists.
Print
© Copyright JLA: All Rights Reserved
FEE BANDS
CONFERENCE SPEAKERS
£2.5K TO £5K
AFTER DINNER SPEAKERS
£2.5K TO £5K
PRESENTERS
£2.5K TO £5K
YOU MAY ALSO BE INTERESTED IN...
EXTRACT FROM JLA SPEAKERS BREAKFAST
I was finally fired from BBC Breakfast news. My incompetence reached its high point with the visit of Her Majesty the Queen to South Africa. At the time the Royal Yacht Britannia was coming to the end of her time in service. We were broadcasting live as they sailed into Cape Town Harbour. The yacht came into view as I said 'There she is, 100,000 miles on the clock and still looking pretty serviceable' - on screen was the closest close-up I have ever seen of Her Majesty the Queen...

One of the underlying issues about Obama is that he doesn't have about him the all-American 'country boy made good' myth that all other modern Presidents had. There has always been the sense that they have come from some rural, idyllic place to sort out the politicians in Washington.

Obama doesn't have that, and it is beginning to matter. He is the first urban President in modern times, and this does not give you the sense of belonging in the American psyche that other Presidents have depended on.

There was a joke on the campaign trail that I thought at the time really did speak to his condition. His campaign staff got together one night in Pennsylvania, or somewhere quite gritty and said 'Look Barack, you're not getting through to the common people, you're not speaking their language', to which Obama raised himself up to his full height and said "Au contraire"....

Print
ALSO SEE OUR...