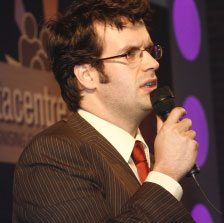 "Marcus is a natural crowd pleaser and managed his audience perfectly."
Association of Business Recovery Professionals
WIKIPEDIA
BIOGRAPHY
Marcus Brigstocke is a major British comedy talent as writer, presenter and performer. Allegedly, he is heard on Radio 4 more frequently than the shipping forecast.
On television Marcus launched The Late Edition, the late night BBC4 answer to The Daily Show with Jon Stewart. He has hosted and appeared as a panellist on Have I Got News For You, and played King Stupid in Stupid on CBBC. He also took the lead in We Are History, which brought him to the attention of the odd exciteable archaeologist. He then stretched himself even further, joining Esther Rantzen and Ron Atkinson in Excuse My French. He is the host of I've Never Seen Star Wars on both radio and TV, a team captain on Argumental, a regular on panel shows like QI, and even crops up on Question Time and This Week.
On Radio 4 he is the angry youngish man on The Now Show, with Punt and Dennis. He has written and performed several series of Giles Wemmbley-Hogg Goes Off and The Museum Of Everything. He also plays Packer, Head of Unthinkable Solutions in Think the Unthinkable. Other credits include Just a Minute and The News Quiz.
On the big screen Marcus has appeared in Love Actually, Telstar: The Joe Meek Story, Piccadilly Jim, and Beyond The Sea - with Kevin Spacey. He has also enjoyed a No.11 chart 'hit' as the voice on DJ Dee-Kline's Don't Smoke Da Reefa - a logical progression from his very brief early career as a podium dancer.
Print
© Copyright JLA: All Rights Reserved
PRESENTERS
£5K TO £10K
ENTERTAINMENT
£5K TO £10K
YOU MAY ALSO BE INTERESTED IN...
RVS: BEFORE THEY WERE FAMOUS
The following comedy luminaries all appeared on JLA's Real Variety Show - long before they became luminaries:

Bill Bailey

Frankie Boyle

/> Marcus Brigstocke

Ed Byrne

Jimmy Carr

Armando Iannucci

Sean Lock

Alistair McGowan

Michael McIntyre

Dara O Briain

Print
ALSO SEE OUR...