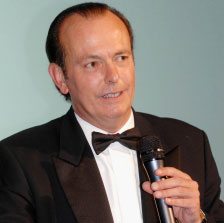 "Quentin's contribution exceeded our expectations. Some say it was the best event ever."
Car Care Plan
WIKIPEDIA
BIOGRAPHY
Now best known for creating, producing and presenting Britain's Worst Driver, Quentin is a wonderfully distinctive television presenter, journalist and writer. As well as being an authority on all things motoring, he is an avowed champion of consumer awareness and customer service in every area of life.
With a degree in English, Quentin went on to work as a second-hand car dealer and soon became the proud owner of a large upmarket dealership. Whilst there, he started one of the first magazines devoted to the used car industry, Buying Cars - later renamed Car Choice. He then went on to make his name as a presenter on Top Gear, The Car's the Star and the property show All the Right Moves.
He is a regular contributor to The Times, The Daily Telegraph, FHM and Classic Car, and has written The Ultimate Classic Car Book.
Quentin is a skilled conference presenter and a highly engaging after dinner speaker. In his own characteristically dry way, he touches on houses and architecture, the media, modern art and the highs and lows of customer service - not forgetting his other true passion: political correctness.

Print
© Copyright JLA: All Rights Reserved
FEE BANDS
CONFERENCE SPEAKERS
AFTER DINNER SPEAKERS
£2.5K TO £5K
PRESENTERS
£2.5K TO £5K
YOU MAY ALSO BE INTERESTED IN...
THE CLIENT'S VIEW

by Caroline Jackson / CMP
Whatever your budget, invest the most you can in your host: I've never seen a poorly hosted event compensated for by the exquisite flavour of the soufflé.

/> Finding the right one requires skills and understanding about what makes each of our audiences tick. An honest agency will tell you the pros and cons of your choice. And you can strike lucky and get someone up and coming, before they become household names and price themselves out of your league.

When you find someone who is clearly on their way to the top, you feel as if you've helped the audience discover a talent - and that feels great.

Print
ALSO SEE OUR...