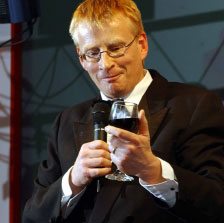 "Phil Hammond's speech was fantastic - we are still talking about how funny he was."
Aventis Pasteur
EXTERNAL LINKS
JLA is not responsible for the content of external websites.
WIKIPEDIA
BIOGRAPHY
Phil is 'one of the most entertainingly subversive people on the planet', according to The Guardian. A practising GP better known as a comedy writer and broadcaster, he offers after dinner audiences a private consultation bristling with humour.
With strong views on the National Health Service, Phil is possibly the only comic to be called before a public enquiry. It was he who first investigated the care given to children undergoing heart operations at the Bristol Royal Infirmary. In 2011 he co-authored a Private Eye special investigation, exposing the treatment of NHS whistleblowers, which triggered an early day motion in Parliament.
In an early foray into politics, Phil stood in the Bristol West constituency as the 'Struck Off and Die Doctors Alliance' candidate, against William Waldegrave. He polled eighty seven votes. Since then, he has toured the country with his one-man show, 59 Minutes to Save the NHS.
Phil's numerous TV appearances include Have I Got News for You, Trust Me, I'm a Doctor and Scream, a History of Anaesthetics. He also co-wrote the BBC sitcom Doctors and Nurses. Radio credits include The News Quiz and The Now Show.
Phil Hammond is Private Eye's medical correspondent, under the pseudonym MD. His books include Trust Me I'm a Doctor and Medicine Balls.
Print
© Copyright JLA: All Rights Reserved
AFTER DINNER SPEAKERS
£2.5K TO £5K
PRESENTERS
£2.5K TO £5K
YOU MAY ALSO BE INTERESTED IN...