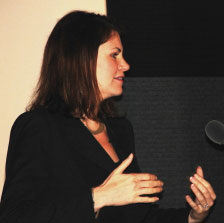 "Julia was great, very funny and absolutely charming. I would book her again."
Women in Property
EXTERNAL LINKS
JLA is not responsible for the content of external websites.
BIOGRAPHY
Julia was the Assistant Editor and columnist on The Sunday Express. As well as regular guest appearances on everything from Have I Got News For You to Question Time, she has presented a documentary about Deputy Prime Ministers called Every Prime Minister Needs A Willie.
She began her career on an East London newspaper, where she answered calls from Reggie Kray ringing in from Maidstone Prison. She left for the more glamorous role of reporter on the Londoner's Diary at The Standard, before graduating to political stories on The Guardian and then The Express.
With a nod towards both West Wing and Yes Minister, Julia's highly entertaining after dinner speeches reveal which Cabinet member routinely ordered two main courses at dinner - and how journalists invent new words deliberately to trip up politicians at press conferences.
Print
© Copyright JLA: All Rights Reserved
AFTER DINNER SPEAKERS
£1K TO £2.5K
PRESENTERS
£1K TO £2.5K
YOU MAY ALSO BE INTERESTED IN...
EXTRACT FROM JLA SPEAKERS BREAKFAST
Journalists are hardly arbiters of good sense and ethics. I had this little morality test put to me. You are a photo-journalist, caught in the floods. There is chaos all around you. Then, you see a man fighting for his life. You get closer and suddenly realise it is Gordon Brown. The waters are about to take him under. Now the dilemma - you either reach in and save him, or you take the most dramatic photograph of your life. So here's the question. Do you go for colour film or black and white?
Print
ALSO SEE OUR...