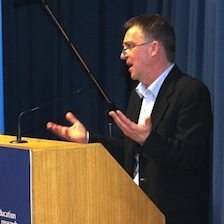 EXTERNAL LINKS
JLA is not responsible for the content of external websites.
WIKIPEDIA
BIOGRAPHY
John McCarthy, journalist and broadcaster, became the story himself when he was taken hostage in Lebanon by Islamic Jihad, a fundamentalist Shi'ite group. John endured 1,943 days of captivity and confronted mental and physical torture, boredom, self-doubt and despair.
When finally released, John tried to return to normality, but his experiences had had a profound and enduring effect on him. An account of his captivity, Some Other Rainbow, which he co-wrote with his girlfriend Jill Morrell, became a bestseller and was described as 'an astonishing achievement'.
John's other books are Between Extremes, an account of a Patagonian journey with fellow-hostage Brian Keenan and A Ghost Upon Your Path, in which John investigates his Irish roots. In Island Race, which was also a television documentary, he gives an account of a circumnavigation of Britain with his friend Sandi Toksvig.
John's numerous television and radio appearances include Out Of The Shadows, an emotional return to Beirut, and Faultlines, which examined the roots of conflict. In It Ain't Necessarily So, John searched the Middle East for archaeological evidence of the bible stories. He is also a regular contributor to the BBC World Service and to Radio 4, where he presented A Place Called Home, Bible Journey and is a regular presenter of the travel show, Excess Baggage.
John describes how, in captivity, he had to find supreme levels of self motivation and courage to stay alive and sane. He then explains how these qualities can be harnessed and used to winning effect in life and in business. His topics include Courage, Motivation, Communication, Teamwork and The Will to Win.
Print
© Copyright JLA: All Rights Reserved
TOPICS
Overcoming Adversity
SPEECH TITLES
Courage
Self motivation
FEE BANDS
CONFERENCE SPEAKERS
£5K TO £10K
AFTER DINNER SPEAKERS
£5K TO £10K
PRESENTERS
£5K TO £10K
YOU MAY ALSO BE INTERESTED IN...