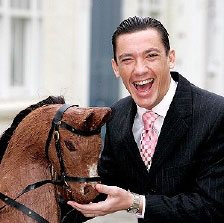 EXTERNAL LINKS
JLA is not responsible for the content of external websites.
WIKIPEDIA
BIOGRAPHY
A firm favourite on and off the track, champion jockey Lanfranco Dettori can be considered one of sports' most charismatic personalities. His trademark leap from the saddle, cheeky sense of humour and dapper dress sense have made Frankie a household name.
The son of a famous Italian Jockey, Frankie was destined for the saddle. He left school early to begin his apprenticeship and success swiftly followed - Frankie became the first teenager since Lester Piggott to record 100 victories in a single season. Winner of countless races, he was the Derby Award Winner for three consecutive years and was named the National Sporting Club's Sportsman of the Nineties. A brief stint on A Question of Sport showcased Frankie's enigmatic charm.
His greatest achievement to date remains the day when he cost the bookmakers over £25m at the Ascot Festival by becoming the first jockey to ride seven winners in a single day. His style of riding has led to the so called 'Frankie Factor', with his horses often being well backed.
Awarded an honorary MBE for his services to sport, Frankie has since turned restaurateur, becoming a partner in Frankie's Bar and Grill with renowned chef Marco Pierre White. He has also released a cookbook and has a line of frozen Italian foods.
Print
© Copyright JLA: All Rights Reserved
AFTER DINNER SPEAKERS
£5K TO £10K
PRESENTERS
YOU MAY ALSO BE INTERESTED IN...