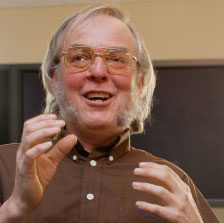 'A real "Boy's Own" story'
Proctor and Gamble
EXTERNAL LINKS
JLA is not responsible for the content of external websites.
BIOGRAPHY
Colin Pillinger grabbed the headlines when he led the European Space Agency Beagle 2 Project - to land a tiny spacecraft on Mars. Although the mission ended in disappointment and mystery (no radio communications were ever received), the spirit of Beagle lives on.
Having begun his career on the Apollo Programme, analysing samples of moon rock, Colin is now working with NASA to develop a craft to search for water on the dark side of the moon. The long-term plan is to establish a permanent station at the lunar south pole.
Colin also has an ongoing involvement with ESA's Rosetta mission, seeking to expand our knowledge of the origins of the Solar System. After a ten-year journey the spacecraft is programmed to rendezvous with a comet, drop a lander onto the surface and travel with it towards the sun - sending back a mass of scientific data.
In corporate lectures and after dinner speeches the Open University Professor of Planetary Sciences shows his undiminished enthusiasm. He admits that innovation isn't easy (- Edison first discovered 1500 ways how not to make a light bulb), but believes lack of resources needn't always impede progress: "You just have to think harder."
My Life On Mars is a dual biography telling Colin's story and that of Beagle 2.

Print
© Copyright JLA: All Rights Reserved
TOPICS
Manufacturing & Engineering, Overcoming Adversity, Science, Health & Medicine
SPEECH TITLES
Innovation in space
Hitching a ride on a comet
FEE BANDS
CONFERENCE SPEAKERS
£2.5K TO £5K
AFTER DINNER SPEAKERS
£2.5K TO £5K
YOU MAY ALSO BE INTERESTED IN...
Q&A
JLA: Do scientists make good entrepreneurs?
CP: Entrepreneurs accept that only a small percentage of ideas come to fruition or make a profit. Scientists make good entrepreneurs because they know 90% of the results from an experiment turn out to be unanticipated.

JLA: How can you create a culture of innovation?
CP: Innovation is risky. Edison discovered 1500 ways how not to make a light bulb before he successfully did it.

JLA: What part does technology play in innovation?
CP: To me technology is innovation, and you can be innovative about how to get someone to pay for it - e.g. sponsoring a space mission can produce in an instrument to detect TB in Africa.

Lack of resources can breed innovation. If you don't have the money or technology to address your problem you have to think harder. Scientists thrive on problems and questions without answers.

JLA: What will the next generation of technology make possible?
CP: Overcoming the energy problem is going to get a lot of attention but that doesn't mean somebody working on their own won't find a way of allowing people to flap their arms and fly. You can't predict Eureka moments.

JLA: Which leadership qualities come to the fore when pressure mounts?
CP: The ability to respond to something which wasn't on the risk assessment. Risk assessments are for managers.


Print
ALSO SEE OUR...