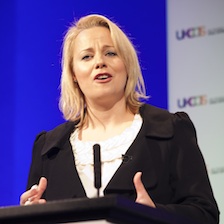 "Her grasp of the issues and her energy on stage made this year's event informative, engaging and entertaining."
ABTA
WIKIPEDIA
BIOGRAPHY
Daisy McAndrew was the Special Correspondent for ITV News, having previously served as Economics Editor and Chief Political Correspondent. Formerly Andrew Neil's co-host on The Daily Politics, Daisy has also presented Heaven & Earth and reported on Westminster for BBC Breakfast.
Starting as a House of Commons researcher, Daisy became Press Secretary to Charles Kennedy before deciding to pursue a career in broadcasting. Other TV news credits include Conference Live, Powerhouse and Despatch Box. Away from serious coverage, Daisy is also a regular on Have I Got News For You and Loose Women. She has also written for the New Statesman magazine.

Print
© Copyright JLA: All Rights Reserved
PRESENTERS
£2.5K TO £5K
YOU MAY ALSO BE INTERESTED IN...