80 Great Portland Street
London W1W 7NW
T +44 (0)20 7907 2800
F +44 (0)20 7907 2801
www.jla.co.uk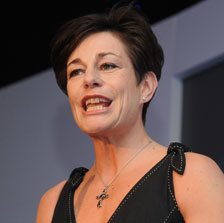 SPEECH TITLES
Picture It, Get Practical, Believe It
Penny Mallory
Penny Mallory's professional experience as one of the country's top rally drivers led to her driving the stunt cars for Nicole and Papa in the Renault Clio commercials. By the time she had graduated to presenting Top Gear Motorsport she was being referred to as the female Jeremy Clarkson.
Other TV credits include Behind the Ball, The Road Show and The Car Show.
Penny started winning regional rallies and then set her sights on the world stage. She eventually succeeded in raising sponsorship from Wash & Go, and after only four years of racing Penny became National Ladies Champion.
Penny is an accomplished and powerful speaker, and has travelled as far as Hawaii to motivate Nortel's top sales teams. Unsurprisingly, Volvo, Daewoo and Jaguar have all taken advantage of Penny's expertise.
"The right balance of professionalism and humour. She made sure her speech was relevant and was very well received." Everywoman
"Hugely energetic, extremely well prepared and very friendly" Bauer
© Copyright JLA: All Rights Reserved