80 Great Portland Street
London W1W 7NW
T +44 (0)20 7907 2800
F +44 (0)20 7907 2801
www.jla.co.uk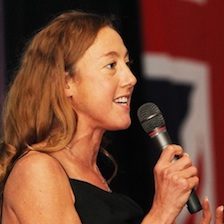 Chrissie Wellington MBE
Chrissie is a professional triathlete, and the World Record holder for Ironman-distance triathlon races. She is the first British athlete to hold this title, and achieved this after only a year as a professional athlete.
Chrissie planned to be a lawyer after university but a period of travelling made her realise that she was more interested in development. Two years later she began an MA and then began her career at DEFRA, as an advisor on international development policy.
During her time as a civil servant Chrissie began to run more regularly and completed a marathon for the charity she volunteered at. The training schedule appealed to her and, after some setbacks - including being hit by a car, she got involved in triathlon.
Finally, disillusioned with Whitehall bureaucracy, Chrissie started work in Nepal, for a Nepalese NGO, focusing on sanitation in a conflict-afflicted area. After two years she returned to the UK and decided to become a professional athlete.
Chrissie now competes all over the world in the toughest triathlon and Ironman contests. She has been an Ironman World Champion, holds the world record for the Ironman World Championship, and is one of only three women to have achieved three consecutive victories at the Ironman World Championships. Chrissie was also a regular commentator on the London 2012 Olympic triathlons for the BBC.
© Copyright JLA: All Rights Reserved