80 Great Portland Street
London W1W 7NW
T +44 (0)20 7907 2800
F +44 (0)20 7907 2801
www.jla.co.uk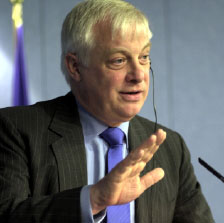 SPEECH TITLES
Europe as 'Super Partner'
Lord Christopher Patten CH, PC
Since leaving Parliament, Chris Patten has held a variety of positions during periods of volatility and fundamental change. He served as the last Governor of Hong Kong, EU Commissioner for External Relations and Chair of the Commission on Policing in Northern Ireland before his current appointments as Chancellor of Oxford University and the Chairman of the BBC Trust.
Patten started his career as director of the Conservative research department. Elected MP for Bath, he quickly rose through the ranks to Leader of the House, Arts Minister and Secretary of State for Social Services. He then took over the environment brief before becoming Chairman, steering the party to General Election victory at the cost of his own seat.
When John Major dispatched him to Hong Kong, Patten earned the respect of both British and Chinese communities for his management of the handover. He published East & West soon afterwards, documenting his time as Governor, the negotiations with China and her relationships with the rest of the world.
In his subsequent book, Not Quite the Diplomat, Lord Patten argues for transatlantic differences to be set aside in pursuit of multilateral interests. He believes that the enlarged European Union, with its half a billion citizens, can exert a much more powerful influence.
"In every way the highlight of the conference - and a tough act to follow." Chase Manhattan
© Copyright JLA: All Rights Reserved