80 Great Portland Street
London W1W 7NW
T +44 (0)20 7907 2800
F +44 (0)20 7907 2801
www.jla.co.uk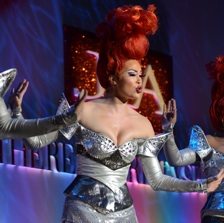 Priscilla, Queen of the Desert
Based on the Oscar-winning film, PRISCILLA is a heart warming, uplifting adventure of three friends who hop aboard a battered old bus (Priscilla) to take their show to the middle of the Australian outback in search of love and friendship.
The musical made its debut in Sydney in 2006 and has since enjoyed sell out runs in London's West End and on Broadway. It's numerous awards include the Olivier for Best New Musical and Best Costume Design.
The spectacular live show sees the three divas belting out disco hits, Finally, Groove Thing, I will Survive and Go West whilst Mitzi, Felicia and Miss Understanding strut their stuff in their award winning costumes.
© Copyright JLA: All Rights Reserved