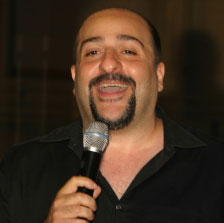 Omid Djalili
Twice winner of the Spirit of the Fringe at Edinburgh, Omid Djalili prides himself on being Britain's funniest (although Shappi Khorsandi might argue otherwise) Iranian comedian. Like his BBC series, his energetic, full-on cabaret routine mixes gags, observations and stories which mock stereotypes and play on preconceptions.
Omid has appeared on the big screen in The Mummy, Casanova, Mean Machine and Pirates of the Caribbean - At Worlds End. He also played a succession of cameos in Gladiator, Notting Hill and The World is not Enough (Omid jokes he usually appears as a generic Middle Eastern background character). Other film credits include Jason & The Argonauts and Spy Game. Omid recently exchanged blockbuster movies for the West End, where he starred as Fagin in Oliver!.
On television Omid has appeared in the sitcom Small Potatoes, and in Bloody Foreigners and Coming Soon. He has his own sketch series, the aptly titled The Omid Djalili Show. He also co-starred with Whoopi Goldberg in her sitcom Whoopi; and he's only the second British comic (after Eddie Izzard) to be given his own special on HBO.
Omid has also starred in the David Baddiel-penned film The Infidel playing a Muslim who discovers his Jewish heritage, has voiced a character in the hit video game Grand Theft Auto, and became the seemingly ubiquitous face of Moneysupermarket.com.
Despite having being around for years, he remains one of the freshest and most original comics on the circuit. Remarkably, he has also performed in Australia, Austria, Germany, Holland, Denmark, Sweden, Norway, Switzerland, The Czech Republic and Slovakia - and the Middle East.
"An absolute gem. It was a bit of a risk - but one that really paid off." Call Centre Awards