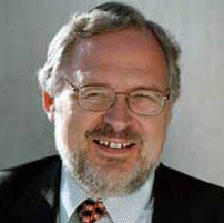 SPEECH TITLES
Lean Thinking
E-Commerce Logistics
Maximise Efficiency to Maximise Profitability
Professor Daniel T Jones
Professor Daniel T Jones set out his theories on more efficient, 'leaner' management in his bestselling book, 'Lean Thinking: Banish Waste And Create Wealth In Your Organisation'. His advice has been adopted by businesses across the globe and his follow-up book, 'Lean Solutions: How Companies and Customers Can Create Wealth Together', extends his ideas to consumption, provision and service delivery.
Regarded as a world authority on efficient thinking in industrial production and distribution, Prof Jones has founded a global network of Lean Institutes teaching organisations how to put his ideas into practice. In the UK these include Toyota and Tesco.
While a Professor of Management at Cardiff Business School, Professor Jones co-founded the Lean Enterprise Research Centre. The leading centre of excellence in its field, it conducts major research programmes, including The Worldwide Manufacturing Benchmarking Study and The Supply Chain Development Programme, which works across the automotive, grocery and chemical industries.
Professor Jones is also a Principal of Unipart U, the first company 'university' in the UK, is a member of several government Task Forces and of the Cabinet Office Foresight Panel on 'Manufacturing 2020'.
Professor Jones shows decision makers how, by implementing his 'Lean Thinking' principles, they can do more with less, respond more swiftly to customer needs and reduce their impact on the environment. His presentations are packed with practical, targeted advice that can be adopted by organisations wishing to increase efficiency and profitability. In addition to Lean Solutions in management and supply chains, Professor Jones speaks on distribution, and integrated transport and e-commerce logistics.