80 Great Portland Street
London W1W 7NW
T +44 (0)20 7907 2800
F +44 (0)20 7907 2801
www.jla.co.uk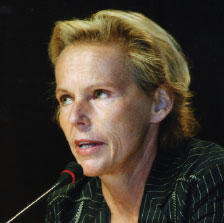 SPEECH TITLES
A European perspective
Empowering women


Christine Ockrent (France)
Along with her partner, the colourful French Foreign Minister Bernard Kouchner, Christine holds a prominent role in public life. As the doyenne of current affairs reporters, she was known across the country as 'La Reine.' She now heads overseas TV and Radio - the equivalent of the BBC World Service.
Christine began her career in broadcast journalism at the US network NBC, on the flagship 60 Minutes programme. Alongside various presenting roles, she has also served as Editor in Chief of L'Européen and the magazine L'Express, and Deputy Director General of TF1 Television.
As well as contributing columns for various newspapers, Christine has written eleven books - including The Double Life of Hillary Clinton, The Condition of Women and Women in Power: How They Govern.
Christine talks about Europe's new frontiers, including what she sees as 'the Lisbon paradox.' Whilst this empowers nation states, there's also a new layer of institutions including plans to establish EU embassies across the globe.
Whilst Kouchner founded Medecins Sans Frontiéres, Christine sits on the board of Reporters Sans Frontiéres, the Centre for European Reform and the International Crisis Group. She has been awarded the Prix Tézenas du Montcel, and the French Legion d'Honneur.
© Copyright JLA: All Rights Reserved