80 Great Portland Street
London W1W 7NW
T +44 (0)20 7907 2800
F +44 (0)20 7907 2801
www.jla.co.uk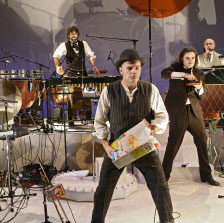 The Spaghetti Western Orchestra (AUS)
With a fistful of humour and bucket-loads of fun, the Spaghetti Western Orchestra pay tribute to Ennio Morricone's wonderful musical scores. Based in Melbourne, they regularly ride through Europe and North America with their ingenious saddlebag of tricks.
The Spaghetti Western Orchestra combine superb musicianship with whistling, grunting and a whole battery of sound effects, conjuring up a mesmerising soundscape. Close your eyes and you're back in the hilarious world of heroic gunfights and bungled shoot-outs.
With an assortment of instruments from double bass, vibraphone, timpani and keyboards to coat hangers, cornflakes, nail clippers and rubber gloves, the boys recreate every punch up, gunshot and jangling spur.
© Copyright JLA: All Rights Reserved