80 Great Portland Street
London W1W 7NW
T +44 (0)20 7907 2800
F +44 (0)20 7907 2801
www.jla.co.uk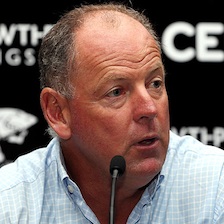 SPEECH TITLES
Teamwork
Leadership
Politics and sport
Jake White (South Africa)
Taking on 'the toughest job in world sport', Jake White coached the South African national rugby team, the Springboks, to victory in the Rugby World Cup. Their most celebrated coach of recent years, he was appointed at a time when South African rugby was in the doldrums, after a poor performance in the previous World Cup and a series of internal scandals and conflicts. In his first season, the team seized the Tri Nations title in one of the most closely-contested tournaments in it history.
Under Jake's guidance, the Springboks regained their position in world rugby. They rose from sixth position in the IRB World Rankings to first and became the most successful South African team at home in the history of Springbok rugby, undefeated in eleven tests. They also won victories over Australia and New Zealand and achieved the highest score ever recorded by a Springbok side; 134-3 against Uruguay.
Jake started his rugby career as a high school coach, before progressing to college sides. He led the national under-twenty-one side to victory in the inaugural IRB Under-21 Rugby World Cup.
Following the World Cup victory, Jake published In Black and White, in which he told his own story and described the political pressures he was put under by South African officials.
Jake details the obstacles he faced, bringing a national team back to the top, in one of the most politically-charged arenas in the world. With wit and insight, Jake shows how determination, skill and an ability to focus on a target can bring success.
© Copyright JLA: All Rights Reserved