80 Great Portland Street
London W1W 7NW
T +44 (0)20 7907 2800
F +44 (0)20 7907 2801
www.jla.co.uk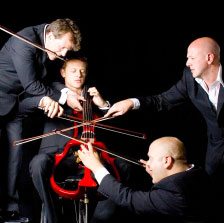 Stringfever
Stringfever are a string quartet with a difference. Giles, Neal, Ralph and Graham Broadbent, the self-styled 'genetically modified string quartet,' have been performing together literally all their lives.
Complete with funky electric instruments, Stringfever romp through their History of Music (in five Minutes). They also provide an unusual rendition of Ravel's Bolero, with a little help. They swap instruments, wander through the audience and deploy a human beatbox to devastating effect.
Drawing on a huge repertoire, every Stringfever performance involves reinterpreting, mashing and mucking about with classic melodies from JS Bach to John Barry. If you thought a string quartet was just for background music, think again.
'They exceeded all expectations and were an absolute delight to work with' Intercommunic8
'A joy to work with' Avis
© Copyright JLA: All Rights Reserved