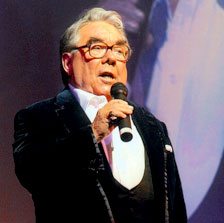 Ronnie Corbett CBE
From the moment he first stepped on stage at the age of 15, playing the part of the Wicked Aunt in a church youth club pantomime in his native Edinburgh, Ronnie Corbett knew it was his destiny to make audiences laugh - and this he has been doing with remarkable consistency ever since and in every sphere of entertainment, from cabaret and pantomime to his position as one of Britain's favourite television entertainers.
He went on to make cameo television appearances on programmes such as Sunday Night At The Palladium and The Eamon Andrews Show, but it was whilst appearing with his good friend Danny La Rue, with whom he worked for many years, that he was spotted by David Frost, leading to regular appearances on The Frost Report, Frost On Sunday and No, That's Me Over Here.
It was on one of those Frost shows that Ronnie appeared with Ronnie Barker and John Cleese in a sketch on the British class system which remains one of the most memorable moments in television humour, and in which, it is probably fair to say, Ronnie's ability to scale great comedic heights from a small physical one truly impressed itself upon the British public. It also signalled the beginning of a partnership which would blossom into a British comedy institution, The Two Ronnies. The pair's BBC television series, The Two Ronnies won the award for the Best Light Entertainment Show of 1972. The show has also transferred successfully to the stage in both Britain and Australia, including a record breaking run at the London Palladium, which Ronnie still regards as perhaps the most exciting achievement of his career.
Ronnie's reputation as a solo performer has grown through innumerable television specials for the BBC, the highly acclaimed Sorry and his frequent forays into cabaret and theatre, where his way with a monologue is most in evidence, and where he admits he probably feels most at home.
When not performing Ronnie enjoys nothing more than unwinding on the golf course. He was captain of the Variety Club of Great Britain Golfing Society in 1987. He has partnered Seve Ballesteros, Lee Trevino, Tony Jacklin and many other top players in pro/celebrity golf tournaments.
"Ronnie did a fantastic job" British Society of Magazine Editors